I recently had an MSN MoneyCentral article on foreclosures forwarded to me from a client. It was in response and in support of my post on Free Foreclosure Lists - You don't have to Pay for Foreclosed Home Listings. The MSN article states that yes, REALTORS® have the listings of the foreclosed or Bank Owned Homes, known as REOs for Real Estate Owned. The listings on foreclosed homes aren't hidden away, and they also agree that chasing the 'pre-foreclosure' listings aren't as easy as one might be led to believe.

They add that there is increased competition for these properties. This is true, especially for those that are in good condition, as they often get multiple offers that can go above the listing price. Banks are looking for the highest or best offer. Still, even with that competition or going above list, they may have the potential to offer tremendous value. That is when having a quality real estate agent can be invaluable. They can offer comparable pricing and other informative insight, which is much better than a home buyer simply assuming that anything with 'foreclosure' attached to it somehow implies a better deal.

For the 'pre-foreclosures', I can agree with most of what they say. The actual foreclosure auction, known in Nevada as a Trustee Sale, can be difficult, and especially so in today's market. With the decline in home values, it becomes fairly rare for there to be equity found at these sales, and professional competition for the limited properties that may offer equity can be very stiff. That is in addition to this type of sale usually having you make a bid without inspecting the property. This can become very risky for the average home buyer, and also only available to those that have cash on hand. I'd also add that many of the online foreclosure sites may not correctly list the price of these pre-foreclosure properties.

I do have to disagree with one aspect of there article...that all liens are 'wiped-out' in these Foreclosure Auctions or Trustee Sales. That can depend on a number of technicalities, so you would need to seek out a good title search and a real estate attorney for legal advise for a specific property.
Now let me relate a story from my in-house Las Vegas history buff. While it wasn't a foreclosure, but an estate sale, I may be able to show you some of the highs and lows of real estate and how it could apply in today's market. This home was sold during a previous housing market slump that happened during the late 1980's. The above picture is a recent shot of the then roughly 10,000 square foot home on a near half acre, or I should say homes, since it is actually 2 that were joined together.

This luxury Las Vegas home had been owned by one of the highest paid entertainers of their time. Reports have stated that as much as $5.5 million was invested in joining, expanding, and customising the home. Some of the features include a hand painted Sistine Chapel mural replica painted on the ceiling by a claimed to be descendant of Michelangelo. That alone had been reported to have cost in the neighborhood of $1.5 million. The connection between the homes was dubbed "The Eternal Hallway" and lined with floor to ceiling mirrors on the walls creating an infinity effect, Italian Marble floors, along with four 2000 year old columns imported from Greece. Long before Steve Wynn built Bellagio, this home had a miniature dancing waters in the backyard.

The front doors are said to be from the New York Governor's Mansion, the gates over 100 years old and imported from Italy, and an antique staircase from Paris. The second floor 'Moroccan Room' solarium that offers views of the Las Vegas Strip, had $200,000 worth of imported tile lining the walls and fireplace and tiny Tivoli lights over the top of the glass room. It's said the stained glass ceiling in the dining room was reported to cost $300,000, and there was another reported $200,000 spent for etched glass found in the home. The master bath alone was said to be a $65,000 custom remodel, and all this was in 1970's dollars.

The estate listed the home for $3 million, and then lowered it by several hundred thousand, but it didn't sell. It eventually was auctioned in December 1987, receiving a high bid of only $325,000. Strangely enough, the home was never titled to the winning bidder. The auctioneer actually sold the property several months later for $450,000, and still a very sizable price reduction. The new owner was an Atlanta insurance mogul that, at first, had bought it as a second home.

He later tried to rent it as an executive vacation home, but couldn't compete against the luxury of the Strip resorts and other new Las Vegas vacation retreats. He then went on to turn it into a rental hall for corporate events and weddings. The back yard was modified to allow for a cafe to accommodate up to 300 guests, increasing the square footage of the home to be now listed at nearly 15,000. You may have seen part of the home as it was used for the engagement party scene in Adam Sandler's "The Wedding Singer", and for scenes from 'The Sopranos." All these uses had posed licensing issues, as the home didn't have adequate parking in the residential neighborhood, and valet and shuttle services had to be provided.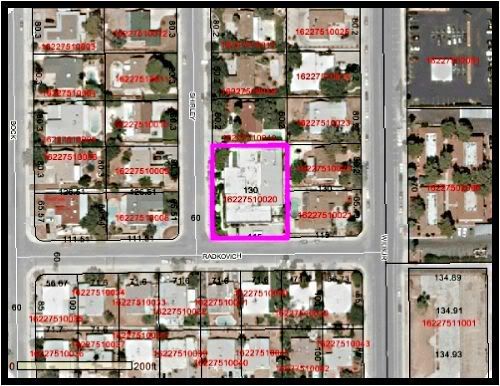 The home was sold again for $3.7 million in 2006 at the peak of the housing boom and is still currently the "Las Vegas Villa". Yes, it's the flamboyant former Liberace Las Vegas Home. There are pictures of the interior of the home found here at Bob's Liberace. You'll find another glimpse of the "King of Bling" style at Carluccio's Tivoli Gardens, a restaurant he once designed and operated. It's just blocks away and next door to the Liberace Museum at Tropicana and Spencer.

So let's put this home in a hypothetical foreclosure situation in today's market. Let's assume that we will simply base this as only a home and it's property, not allowing for any business, historical, or sentimental value. Let's also assume that approximately 80% of the sales price, or roughly $3 million, is owed to a lender in a Trustee Sale. This amount plus costs would be the minimum bid for the property.

So here are some thoughts to consider. This home isn't located in a guard gated community with the amenities and features found in many of today's luxury master planned subdivisions. It's located on a city street corner among the tract homes of this late 1950s development by Wilbur Clark of Desert Inn fame. There's currently no garage, and the lot isn't as spacious or private as can be found in some of the luxury home projects of today. While highly elaborate for it's time, it has primarily stayed as it was over 20 years ago. These would be just a few of the thoughts you'd need to consider before determining your own value for the home.

You have to remember that you'd probably not be able to inspect the property, and would be buying as-is at a Trustee Sale. What other issues could be facing the house, such as structural or mechanical? You would also be making your bid understanding that the treasures of the house that you've just read about here, could have been removed or the property damaged, even severely. As the new owner, you also have to handle the eviction process and any property taxes or any other issues that could crop up.

With all that in mind, would it be worthwhile to bid at or above the amount and costs owed, or if not purchased by someone else, allow the bank to foreclose and potentially write down the property to reflect market value as an REO? These are considerations potential buyers must make.

Celebrity, luxury, or just average home, all would have similar determinations to be contemplated before deciding a home's worth. Las Vegas Foreclosure Auctions, which are actually auctions of Bank Owned Homes, have their own issues to consider. These are often homes that have been listed on a local multilist, and many return to it, as the sales aren't always accepted. In either case, a good deal of knowledge and research is required...it's not quite as simple as the 'systems' of late night infomercials may imply.

So is it worth it to pay for foreclosure listings to get these 'pre-foreclosure listings', for 'possible' Trustee Sales? I'll let you be the judge of that. Or what about those 'free' foreclosure searches, like this one recently passed along by another client? Sure, there's also a 'free trial', but look closely after you do a search without registration and you'll see...* Photos are for sample purposes only. Membership includes real property photos.

Hmm, that's interesting, the photos aren't the actual listed homes until you join. This site is one of many similar sites from the same operator, that also appears to be selling your name and email to 3rd party vendors. The fees seem a little difficult to find from their home page, but here they are from one of their sites. Membership is listed there at $79.95 a month, and a one time charge for 'Premium Service' of $39.95. They claim to have updated listings and say you can cancel, but it appears a some people may disagree from these complaints.

The choice is yours. The free REO listings available from your local REALTOR® websites, like my own at Search4LasVegasHomes, RobertaLaRocca.com, or my zip code based search hosted at the Greater Las Vegas Association of REALTORS®. Yes, these are accessing the direct source for Las Vegas Bank Owned Home listings in the Clark County, NV area as they are listed. It also gives you the opportunity to see what other resale homes are available in your price range, as mentioned on the bottom of page 2 of that MSN MoneyCentral article. 

For an even more detailed search, all you have to do is contact me with your specifics and I'll have them automatically sent to your email as matching properties are listed. Further contact can be as much or as little as you'd like, I'm not interested in pushing anyone into a sale when they're not ready. I do strongly suggest you open your search to include more than just the foreclosures. It's something I've posted many times before, the true value is in what you actually get for your dollar. A smart shopper doesn't limit themselves and looks at all available options.

The same is true of finding an agent to represent you. As I mentioned in my post on Home Buying Blunders, there are many scams and even unlicensed persons posing as agents. Do you prefer to be contacted by a stranger that bought your name or email from one of these sites that acquired it with 'sample pictures' and not actual photos, or would you prefer to find an agent you feel is knowledgeable, legitimate, and will provide you with the service you deserve?

For something as major as a home purchase, it is very important for you to be properly represented. It may not even be wise to contact a listing agent from a sign or ad, or in the case of new homes, registering or visiting a home builder and giving up your right to having your own agent. In either case, it's my opinion that it's like walking into court and asking a prosecuting attorney to defend you. No matter how well qualified and competent they are, I feel it would be very difficult for anyone represent both sides to the best of their ability.

Whatever part of the country you are doing your home search, since you're here at ActiveRain, find out what they're really about. Don't go by any 'site rankings' or little image things like the round one hanging over my picture in my ActiveRain Blog. That may only mean that someone has been around for a while, paid for the recognition, or that they have a lot of free time to make multiple posts. I'd suggest reading through the posts to see if the agent is a fit for you. Are they informative and knowledgeable in their market, real estate transactions, and what all their community has to offer? Are they writing to show they provide a service that helps consumers like you, or only posting for themselves and their rankings? Use this aspect of the internet to shop for YOUR best representation.
If you are interested in relocating to Las Vegas or would like more information on Las Vegas real estate, please email me, Roberta LaRocca, at roberta@search4lasvegashomes.com, or call 702-354-8988. I look forward to hearing from you!