OK, so how does Las Vegas Locals Specials, Art, and Networking fit together? It's all thanks to Tom Wilkinson of Vegas4Locals.com, a website I've mentioned here in the past. It's a long time favorite of Sparky's Coupon page, that crazy 'Elvis' looking Jack Russell on the right of my blog here at Active Rain. Tom's site offers printable Las Vegas discount coupons, and Ebay Auctions of shows, attractions, tours and more. (And to let you in on yet another little Vegas secret, you don't have to be a local to use them)

Of course there's still more, the site is an online Las Vegas community central, with event listings, community guide, and the often unadvertised deals that are for locals only. Yes, he has the insider trading specials that you just have to know about, unlike the more public MGM Grand Locals Specials. These are all part of the added benefits of living in Las Vegas.

Tom also sends out a free monthly E Newsletter and any updates in between. One of the other community services he provides are Networking Mixers, typically once a month, and held a various locations around the valley. No offense to social media, but it's still hard to beat 'pressing the flesh' and making new friends and mutually beneficial contacts, especially if you want to be truly knowledgeable about what is happening in your community. Here I am with our host for the evening, Tom Wilkinson, sneaking him away from Marjie for just a moment.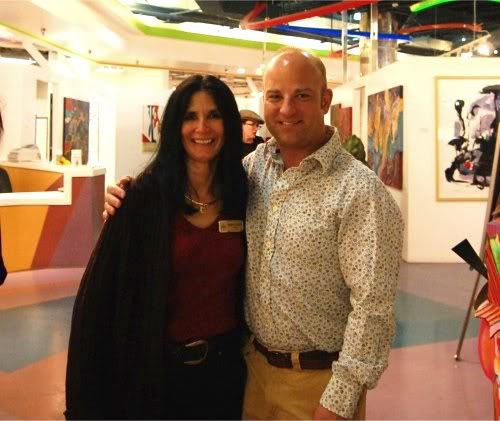 Last night Tom's free mixer teamed up with the Southern Nevada Center for the Arts inside Neonopolis on the 2nd floor. It's in the middle of the famed Fremont Street Experience and the new 'retro neon' Fremont East. An appropriate location for the Arts Center that just had it's Grand Opening last month, as Neonopolis has displayed the restored Neon Sign Art saved by 'The Boneyard' of the Neon Museum.
In these unsettling economic times, the Arts Center is part of bucking the trend of uncertainty and showing a belief in the future of Las Vegas. It is one of several new openings slated for Neonopolis, with a new nightclub and restaurant currently scheduled to join both them and the new Telemundo TV studios. Talks are reportedly underway for additional new tenants.

Just down the street, The Golden Nugget has already invested millions into renovations and is currently proceeding with it's 500 room hotel tower addition. Remodeling and expansion plans continue downtown at the Gold Spike. This all to compliment ongoing work at other area hotels, and a proposed new city hall that would add additional employment.

Nearby in Union Park, I've just mentioned the affiliation of the under construction Lou Ruvo Brain Institute and the Cleveland Clinic, greatly advancing the medical field in the valley. With Mayor Oscar Goodman leading the charge, and the Las Vegas Redevelopment Agency pressing on by more than doubling average returns, a lot more is beginning to take shape in downtown Las Vegas. Even the USBC Bowling Championships have returned for a run at Cashman Center that offers it's own economic stimulus to the city.

The resurgence of interest in the area was easily seen by the well attended mixer in the very full Art Center. Speaking of being full, complimentary hor d'oeuvres were provided by Mickie Finnz Fish House just across Fremont, and a complimentary cocktail provided by gold and silver award winning Lotus Vodka, in addition to a cash bar with a variety of beverages available. It all set the tone for a casual evening to meet both business people and these talented artists.
While I unfortunately don't have the space to mention them all, I can give you a small sample of what you'll find. As you're about to enter the Arts Center, to your right, the amazing high definition photography of William Carr's World Focus Images immediately catches your eye. While you'll get a glimpse of his work in the Photoshow below, and William was kind enough to allow a shot in his gallery, that picture just didn't do his images justice. I strongly urge you to visit his website to see these incredible HD photos of landscapes from around the globe. They are of the quality you'd expect to find in the finest homes, such as the Old World Style Luxury Condominium Homes of One Queensridge Place.

For large bold art that can fill a room with bursts of color, you'll discover Las Vegas painter James Donahue. His abstracts feature vibrancy that can explode in either homes or businesses, and he also offers a unique Corporate Art Program that can change a mundane office into a bright welcoming space. Once again, you'll soon see some glimpses of his work, but for an up close look at his variety and style, visit him at ArtofJames.com.

If you had ever been to a Hollywood Video, chances are you've seen the works of A.D. Cook. In the 90's he was their resident artist, designer, and creative director, hand painting murals on the walls of stores in the northwest. Many of those either become mural sized canvas paintings or photo-mural wallpaper in other locations across the country. Since then he has evolved in various art and design efforts, only to return to his passion of painting. His works include large scale nudes and figurative paintings, and blends those styles into his unique textured metal art that he's named Metal Fusion™. Find more on his works at ADCookFineArt.com.

There is much more found at the Arts Center, like the hand crafted and individually styled jewelry created by Sharron Westeren of Delicate Designs. Her studio is among a lengthy and growing list of artisans, including sculptures, ceramicists, textile fiber and other mediums, some of which you can experience when they are working in their studios.

So on to the tour of the Southern Nevada Center for the Arts. To watch full screen, instead of using PLAY, click the HD or Full Screen button on the bottom of the player below, and when finished click it again or use the ESC key to return.
The XML Flash player NOT embedded in your current posting location? Click here to view these pictures , or for all my Las Vegas Photoshows that include some of the interesting neighborhoods and events found in and around the Las Vegas Valley, CLICK HERE.
This event is another example of the community spirit found in Las Vegas. As you can also see, having so many unique places to visit and living among so many talented artists, along with the many entertainers and musicians here in the valley, makes Las Vegas such an exciting and interesting place to call home.
If you are interested in relocating to Las Vegas or would like more information on Las Vegas real estate, please email me, Roberta LaRocca, at roberta@search4lasvegashomes.com, or call 702-354-8988. I look forward to hearing from you!