< UPDATE >
2010 PHOTO TOUR OF SYMPHONY PARK
CLEVELAND CLINIC LOU RUVO CENTER
CLCK HERE

As announced today, the Cleveland Clinic is partnering with the Lou Ruvo Brain Institute. They will staff and operate The Cleveland Clinic Lou Ruvo Center for Brain Health in the facilities under construction in Las Vegas' Union Park development in downtown. It's expected to be opened in mid-2009.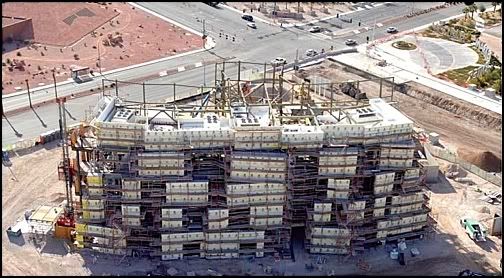 The Lou Ruvo Brain Institute is dedicated to treatment and research for cures to brain disorders, including Alzheimer's, Parkinson's, and Amyotrophic Lateral Sclerosis (ALS). This affiliation not only helps to add to the Institute's capabilities, but will expand those of the Cleveland Clinic's current Brain Health Center at their Neurological Institute. Their Las Vegas center is expected to treat as many as 300 patients per year, nearly doubling their current capacity. For more information, a story found in the Las Vegas Review Journal.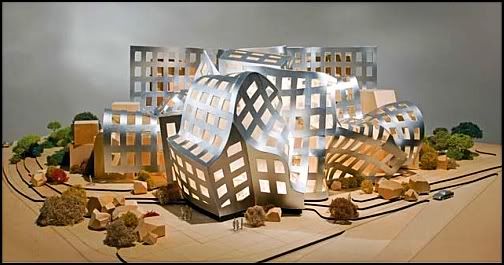 The unique Frank Gehry Architecture will be the southwestern gateway to the city's Union Park, an estimated $6 billion dollar project to the west of the famed Fremont Street Experience. This new urban core is slated to feature other medical facilities and office space, as well as the Smith Center for the Performing Arts and World Jewelry Center to name a few of the project's projected tenants. They will be joining the expansive World Market Center, the showplace for furniture and design.

This addition becomes good news not only for Las Vegas, but the world. It offers these expanded treatment and research facilities for these brain afflictions that have touched so many families. It also continues the diversification of the Las Vegas economy by adding to it's growing medical community. Projects and partnerships such as these can spur even more growth, opportunity and jobs, and the services offered by more professionals relocating to the Las Vegas Valley. All are valuable assets, especially during these difficult economic times.
The Keeping Memory Alive Foundation is the fundraising arm of the Lou Ruvo Brain Institute, making all this possible. They have had great support and endorsement from many celebrities, as no level of income or status is immune to these disorders.

On February 28, 2009, The Power of Love Gala will be held at the Bellagio Hotel Las Vegas. The featured performance will be a one night, one time return to the stage of famed Las Vegas Magicians, Siegfried & Roy. Yes, the one and only performance since Roy's tragic accident and his amazing progress to recovery, will benefit this organization.

There is so much more to Las Vegas and it's community that often gets hidden behind the glare of the glamour and glitz of the Las Vegas Strip. It's projects like this, and the devotion of it's residents to make things happen that are the secrets of living in Las Vegas, making it such a great place to call home.
If you are interested in relocating to Las Vegas or would like more information on Las Vegas real estate, please email me, Roberta LaRocca, at roberta@search4lasvegashomes.com, or call 702-354-8988. I look forward to hearing from you!