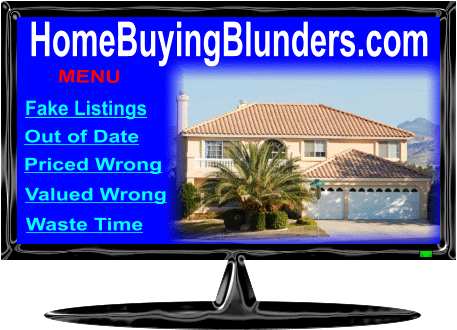 I recently had an article from a major publication emailed by a home buyer, on the Top 5 blunders of Internet Home Buying. They felt some of it was a little contradictory and confusing, and after taking a read I can see what they mean. While it does have some excellent points, it also appears to have one thought opposing another, and coming up short on advise. I thought I'd review and add my comments and my own general home buying guide.

The article's first topic starts with suggesting that unless a seasoned real estate investor, their #1 is home buyers should seek the assistance of a REALTOR®. Why? The legal and many other challenges of purchasing a home. Personally I've found many investors use agents for the information and assistance they provide. Home buying is a complex process, and usually involves much more than simply finding an online listing that may or may not exist, and we'll get to that in a moment.

True comparable values, contracts and contingencies, earnest money deposits, financing, counter-offers, taxes, fees and assessments, inspections, title companies... it can become overwhelming, time consuming, and costly, especially for those attempting to learn on the fly. Having someone experienced in all this and the many other potential issues that can crop up in each individual sale can be very valuable.

The #2 Blunder of looking too narrowly. I can also agree with this to a point, but there is a much more efficient solution. The article states that there is an overwhelming amount of information and 'popular' real estate searches, and that's true. It goes on to say that these websites may not have the latest up-to-date listings. This is VERY true, and it actually goes beyond that. I can't tell you the number of times I've been contacted about homes found on the Internet that are not listed or even for sale anywhere, have been sold or are contingent / pending an offer, or the site list a price that is nowhere near reality. This only adds additional confusion for a buyer...and can drive an agent crazy trying to find a property or a price that doesn't exist.

This topic goes on to include looking for local agents and their blogs for more current information. There I can again agree, but that's where it stops short. Most all local REALTORS® offer a search of their local MLS, where the most up-to-the-moment information is found and includes foreclosures / REOs, or bank owned homes.

You can find the latest in the Las Vegas / Clark County and surrounding areas at RobertaLarocca.com, those listings and a new homes search at Search4LasVegasHomes.com, or a zip code specific Las Vegas MLS search hosted at my site through the Greater Las Vegas Assn of REALTORS® found here. All are free to use and don't require any registration. Browse the latest Las Vegas home listings to your heart's content, I won't contact you unless you request more information.

When you're ready to go beyond window shopping you should contact me, or an agent in the area of your home search, because you'll find we have the ability to make your home search much easier and almost instantly up-to-date. I can create a search specific to your needs and sent directly to your email as homes become listed. No waiting for one of those popular search sites to have their database updated, you're getting it direct from the source. I can also narrow it down to your exact criteria, be it price, style, amenities, lot size, even subdivision, a mapped area, or all the way down to a particular street. All with any pictures that have been submitted or as they are added, and with more detail on the property. It can save you so much time trying to weed them out yourself, and can be adjusted should your needs change.

So while you don't want to narrow your search by using sites that may not include all the listings or ones that don't exist, you don't need to consume your time looking at homes that don't meet your needs. There are currently over 20,000 listings on the Las Vegas MLS, including foreclosures / REO/ Bank Owned, and short sale / pre-foreclosures, along with some well priced resale homes. While sifting through that large a number, and adding some non-existent or unreal priced listings into the pot, your dream home may slip through the cracks.

That brings us to #3, For Sale By Owner, or FSBO. The article states there are estimates that 20% - 25% of homes listed are FSBO. What they don't mention is that these start out listed as FSBO. The National Assn. of REALTORS® did a study and found that in 2007 approximately 12% actually sold as a FSBO. WHY? Well it could be they were so hard to find that the were eventually listed through an agent, pulled from the market, or possibly foreclosed. I think this often goes back to the other side of the article's #1 mistake, inexperience. The sellers may not know how to market their home, or may have placed an unrealistic value on the property. That can make it difficult to impossible to sell, and not offer any real 'bargain' by eliminating an agent. For the buyer, do you want to enter into this without competent information of comparable value, as mentioned in blunder #1? If you do want an agent to represent you, will the FSBO seller be willing to pay your agent's commission, or will it be up to you, and will it erase some or all of the 'savings' if it actually exists?

The article goes on to include Craigslist as a good source of FSBOs...but that also ties into their #4 top Blunder, 'Fake Listings'. Yes, unfortunately there are scammers out there, both on and off the Internet, and could even be a fellow church member. Craigslist can be a place where you can find them, as anyone can post, there's no verification, and users are the primary source to police the site. Even well publicized foreclosure search sites have home listings that either don't exist, have sold, or the prices they can list may be very misleading. Again, very time consuming.

So yes, you do need to be sure who you're dealing with. Even be aware their have been cases of unlicensed people posing as real estate agents. Here in Nevada, a licensed agent must be working from an office of a licensed brokerage, and must list their broker's name and address as you can see on my websites or here in my Active Rain profile. You can also verify an agent or broker license at Nevada Real Estate Division.

That brings us to #5, not relying on online valuation sites. This is also very true, and with so many foreclosures, often more difficult to nail down without detailed information. The article mentions local amenities as a factor, but again it goes beyond that. Property condition, lot size, location, upgrades, and many other items can come into play. Some foreclosures are in need of extensive repairs, while another or a resale home may be in pristine condition.

So here's my general Internet home buying tips...

1. Use online home search tools, but include a local agent's MLS search in the mix. If you see a property of interest on another site, at the very least you can see if it's listed on the MLS and at what price.

2. While you're online shopping for homes, spend some of your time shopping for a real estate agent. Since you're here at Active Rain, you're already at a good place to start. Check out blogs and profiles to get an idea of the person you'd be dealing with. It gives you the opportunity to see if they provide the information and insight you feel will help you in your home search and purchase.

3. Don't get caught in the foreclosure trap. It's where buyers assume the ONLY great home values have foreclosure attached to it. Now this is where you don't want to narrow your search, and weigh all your options to see what works best for you. While a foreclosure may be priced at or below market and offer a great value, they may also need work and additional investment to get back to market condition. Remember that regardless of their appearance, these homes are sold As-Is, and the bank will have you wave your right to disclosures. Will you have the additional time and financial resources available to rehab a property, if necessary?

In some cases resale or new homes can offer a better value, as their prices have had to become very competitive to sell. Aside from corporate owned investment homes, a resale will offer disclosures. You may also be able to negotiate for issues with the home, even after inspection, in the case of a resale. New homes may include added benefits. In addition to being brand new, builders often offer upgrades, good rates for qualified buyers, and home warranties. Just be aware that if you register or sign up for more information on a builder's website, or visit a sales office without your agent present, you'll be giving up your right to have your own agent representation.

4. I don't think I'd recommend paying for 'foreclosure lists' for the average home buyer. Unless you're planning to chase down defaulted homeowners, or have cash in hand to bid at a Trustee sale, and know how to perform all your valuation and due diligence up front before you bid, and those are just a few things you'd need to know. REO's normally end up on the MLS, and you can get those listings for free from a local agent.

Also be aware that foreclosure auctions usually require potential buyers to perform their due-diligence at their own expense during open houses before the auction. It's not unusual to see 'previously valued to' prices that were at market peak, not current market value. Unless a rare absolute auction, there most likely is a reserve price and being the highest bidder doesn't guarantee a sale. Some may add the disclaimer "that except where prohibited by law, they may bid for the seller up to the reserve price," which can make the low starting bids irrelevant. Auctions are another situation where you may want to contact an agent to be represented if you are unfamiliar with the process.

5. When you're ready to go beyond casual cyber-browsing, it's time to get qualified for a mortgage. This for a number of reasons. The first is to determine the price range you should be searching instead of wasting time. Are you looking too high or too low? What rate will you qualify for, and what monthly payment fits your budget? Doing this early in the process may also give you the opportunity to correct any credit issues that can possibly help you get a better financing arrangement.

An agent can usually refer you to someone that can get you pre-qualified, and can help you determine what will be affordable. Remember there can be other expenses to consider, such as property tax and insurance, and if they apply, Homeowners, Master Plan, condominium fees, or special assessments. One of the main issues with today's foreclosure mess is that ability to afford the home purchase was pushed to the back of the line.

Having this in place also eliminates the potential of missing out on a great value for your dream home, as most all sellers in the Las Vegas market won't accept an offer without one in place. With the Bank Owned foreclosures you may be asked to pre-qualify again with the lending owner, and they may even extend a mortgage offer. Also remember that there is no obligation to the pre-qualification. You're still free to use the lender of your choice. If self-funding, be prepared with a bank letter proof of available funds.
To sum it all up, there are incredible values in today's Las Vegas home market and the low interest rates add to the affordability. The Internet provides an incredible tool to share information from good sources. Unfortunately the Information Superhighway can be littered with garbage. Working with a good agent can help you use the technology to your advantage and help you make your home buying experience a lot less troublesome than stumbling through it alone.

If you are interested in relocating to Las Vegas or would like more information on Las Vegas real estate, please email me, Roberta LaRocca, at roberta@search4lasvegashomes.com, or call 702-354-8988. I look forward to hearing from you!