My last post was busting the myth on Las Vegas having no interest or a lack of arts & culture. So now we'll take on the other common misconception, that 'there's nothing to do but gamble'.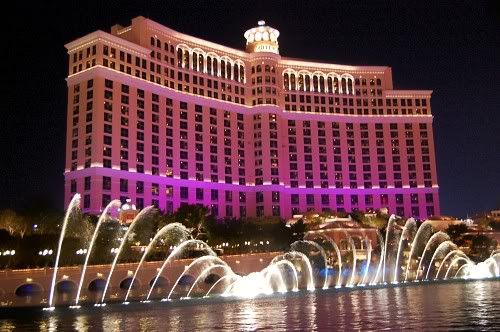 Again I'll admit that when living on the other side of the country, I fell for that line. Because I 'heard' or 'read' it so often, my visits here were with the attitude that there was nothing more to be found. Off the plane at McCarran, cab / limo to hotel, convention center or wedding chapel, back to hotel, then off to the airport. That narrow view kept me from seeing what I was surrounded by on the Strip, let alone what laid beyond the bright lights.
So what is recreation? The American Heritage Dictionary's definition is similar to what you'll find. n. Refreshment of one's mind or body after work through activity that amuses or stimulates; play. Synonyms include diversion, escape, amusement, hobbies, dance, theater, entertainment, nightlife, sports, and even games and gaming. Much like the arts, and why it's so closely entwined to recreation, it's about enjoyment. Stimulating the visual and audible senses, to create a sense of refreshing and re-creating the soul as an escape from the daily grind. Might you find something like that just on the Las Vegas Strip? I'd say there's plenty there, and much more that lies beyond it.
Las Vegas is billed as "The Entertainment Capital of the World." There are a multitude of shows, from headliners like Bette & Cher to America's Got Talent winner Terry Fator coming to Mirage. Magic? Everything from afternoon shows like Mac King and Dirk Arthur, and the large Magic of Steve Wyrick and Lance Burton, with many other shows and touring performances. Several Cirques, Le Reve, Donny & Marie Osmond, Comedians, Impressionists like Danny Gans, Larry G. Jones, and Jay White as Neil Diamond, or 'The Mentalist' Gerry McCambridge to name a few. Soon Mandalay Bay will add The Lion King to replace the long running Mama Mia, and you have Phantom, Blue Man Group, and Jersey Boys at the Venetian - Palazzo, and Wynn's Encore slated to open a Bee Gees production in a new performing arts theater. This doesn't begin to cover all the shows, let alone the concerts and lounge entertainers, and the many unique venues. Many of the shows offer Las Vegas locals specials at different times of the year, and there are places to get discounts, with that make them more affordable for families.

Of course there are a number of free attractions, like the Bellagio Conservatory and it's dancing fountains. The Sirens of TI with the pirate ship battle or the newly renovated Mirage Volcano next door. The lions and birds of MGM Grand, free circus acts at Circus Circus, or the aquarium at the off Strip Silverton. Downtown has the Fremont Street Experience with bands and other performers. Again, the short list, but there's still more to do.

Las Vegas is also known for it's shopping and fine dining with an enormous selection to chose from, especially for a city of it's size. Spas with a wide variety of treatments and facilities can be found at many of the resort hotels. There are dozens of golf courses to be found, and there's even skydiving, with an option to be found just off the strip at Las Vegas Indoor Skydiving, formerly known as Flyaway. Near the Palms on Flamingo you have 2 indoor Kart Racing facilities, with Fast Lap and Kyle Busch's Pole Position, with the family oriented Las Vegas Mini Grand Prix off 95 north. There's also the indoor Adventuredome amusement park at Circus Circus, thrill rides on the top of the Stratosphere Tower, and the coaster at NYNY on the Strip.

The locals casinos are also following the lead of those on the Strip, and many have become entertainment centers. In addition to dining or shopping options, some of the offerings include cinemas, bowling alleys, and arcades. Fiesta Rancho has an indoor ice arena, (and there's Las Vegas Ice Center ) and some others that include the floating rink at Lake Las Vegas' Montelago Village. South Point Casino has an indoor equestrian arena.
For the more serious racing enthusiast, of course there's NASCAR at the Las Vegas Motor Speedway. Both the car and truck series, as well as drags and the outlaws among their many racing events. You'll also find the Richard Patty Driving Experience there, and next door to the track is Carroll Shelby's Factory with his new cafe and factory museum tours. (BTW, I heard local singer Paul Casey that owns the Las Vegas 'General Lee' is organizing a Knightrider Festival on Fremont St., and Carroll is one of the invited guests.) For Corvette owners, they might want to check out the school at Spring Mountain Motorsports, just one of their driving offerings, on the other side of the west mountains near Parumph. Lotus and radical racing, karting and more can be found there. For the off roading / ATV fans, there's several places to ride and races held nearby
Las Vegas also sits in the middle of many of the west's natural wonders, making it a great starting point. For those of us living here, they become a day or overnight trip, like the above Valley of Fire with it's incredibly fine red sand, majestic formations, and Indian petroglyph designs to be discovered. Heading north the Virgin River Gorge you head toward southern Utah with Zion and Bryce Canyons among it's many scenic locations. The Grand Canyon lies to the east of Las Vegas, with access from Utah to the less crowded north rim. The South Rim is about a 4½ - 5 hour trip, or you can visit Grand Canyon West with it's glass Skybridge extending over the canyon and it's Indian village and wild west town or a variety of other activities, about 1½ - 2 hours away on the Hualapai Reservation. About 2 hours west of Las Vegas you have Death Valley and the many ghost towns in that area. Only around a 5 - 6 hour road trip to southern California, and the many offerings there, especially for the amusment parks of Disney, Knots Berry, Magic Mountain, and Lego Land. Air fares to there also tend to be very reasonable, and to me it sure beats living in a more congested and expensive area.
For something a little closer on the west side of the valley is Red Rock Canyon. Popular for hiker's and bikers, rock climbing, picnicking and horseback riding, just like you can find further to the northwest on Mt. Charleston. Ski Las Vegas has ski and snowboard, and is working with the US Forest Service to expand the facilities. There's also the Mt Charleston Lodge that was just purchased by the Siegel Group that plans to remodel the facilities. There you can not only spend the night or have a meal, you can catch a carriage or sleigh ride, from one of the outfitters that offers riding in Floyd Lamb Park and Sunset Cowboy Barbeque Rides. There are separate areas in the park for camping, and one of the areas for summer camps for children, in the Humboldt-Toiyabe National Forest in the Spring Mountains Natural Recreation Area. Up on the rock it can be 20° or more cooler than the Las Vegas Valley floor.
Of course on the east side of the valley you have another rec area, this one Lake Mead. The land area is roughly the size of Rhode Island, and the lake is huge with approximately 500 miles of shoreline. Camping, hiking and biking is available, as well as a variety of water sports. So many coves to explore, and stop for a swim in the warm summer waters. Don't own a boat? No problem, there are watercraft available for rent that includes jet skis, fishing, pontoon /patio, and speed boats, all the way up to houseboats. Below the dam raft trips along with canoe and kayak rental and livery can be found at Willow Beach in scenic Black Canyon. Further down on the NV side near Nelson are also canoe and kayak near the tourable Techatticup Gold Mine in Eldorado Canyon. Fishing is also found in the rec area, as well as at some lakes found in local parks...although your fishing could be interrupted, by a nice friendly goose!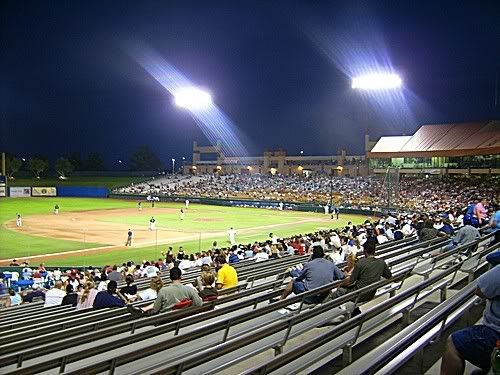 Need more outdoor activities and sports? There are a large number of ports fields found in the valley, most often lighted like the quad ball fields in the top picture. You'll also find soccer fields, and basketball, tennis, sand volleyball, bocce courts and horseshoe pits. Leagues for a wide ranges of ages are available. Skate and BMX parks with both wood and concrete ramps and pipes in various locations, and some serious Mountain Bike Trails at Bootleg Canyon, with Zip Lines also found there Radio controlled airfield and car tracks, and RC boating areas are also found in the valley. Just want to watch a game? Triple A baseball's Las Vegas 51's play at Cashman Field in the bottom picture. There's also the Las Vegas Wranglers Hockey at Orleans Arena, and UNLV college sports at the Thomas & Mack Center, or Sam Boyd Stadium.
While some of the master planned communities in the Las Vegas Valley have their own, there are also public recreation facilities and pools. Indoor aquatic centers, outdoor activity pools, and recreation centers are found throughout the area. There are also special facilities like the Horseman's and Dog Fancier's Park, and opening in June 2009 a sport clay and target Shooting Park on 2900 acres. Through parks and recreation departments they offer workshops, classes, events, fitness, racquetball, leagues and even trips. Below are the entities found in and next door to the Las Vegas Valley, and a list of community links to various clubs and organizations.
Clark County, NV Parks and Recreation
Parks and Rec Home Page
Current online Activity, Event and Class Guide PDF
Direct Connect - Email Updates from Clark County
(Includes Rec, Culture, Air Quality, Newsletters & More)
City of Henderson, NV Parks and Recreation
Parks and Rec Home Page
Henderson Happenings - Online Activity and Class Guide
Henderson Events E-Calendar
Henderson E-Happenings Email Updates
(Parks and Rec, Art and Cultural updates)
City of Las Vegas, NV Parks and Recreation
Parks and Rec Facilities Page
City of Las Vegas Leisure Guide PDF
City of Las Vegas Arts & Culture (Fall 2008)
City of North Las Vegas Parks and Recreation
Parks and Rec Home Page
City of N. Las Vegas Online Activity, Class, & Event Guide PDF
City of N. Las Vegas Parks, Trails, & Amenities Guide PDF
Boulder City, NV Parks and Recreation
Las Vegas Valley Community Organizations
Community Link - Las Vegas Review Journal
Las Vegas Community Events and Activities
Of course I couldn't possibly have covered everything found here in Las Vegas. Still, I believe this gives you a better idea of the recreation opportunities available to residents of the valley. The next time you hear or read 'There's nothing to do, but gambling', 'nothing for children to do', 'there's no arts and culture', 'no sense of community', or any of the other worn out misguided stereotypes of Las Vegas, you'll know that the person doesn't really know the Las Vegas Valley.
If you are interested in relocating to Las Vegas or would like information on Las Vegas real estate, please email me, Roberta LaRocca, at roberta@search4lasvegashomes.com, or call me at 702-354-8988. I look forward to hearing from you!