Green Valley Ranch, the community and the Casino Resort of the TV show American Casino fame, are located in south central Henderson, NV to the southeast of the Las Vegas Strip. It's a Master Planned Community that offers a variety of home choices along with commercial and mixed use for shopping and services. It has convenient access to the 215 beltway, with McCarran International Airport, I 15 south to California, and 93 and 95 to Lake Mead, Lauglin, and AZ just minutes away.

I should also mention that there are some that generally call Henderson, 'Green Valley'. Actually there are 3 areas within Henderson that are Green Valley. If you look at the map below you'll see Green Valley Ranch shaded in medium blue. It lies mostly to the south of the 215 Beltway, with a small residential spur on the west side and a commercial area near the center that extends to the north. Above it you'll find Green Valley South Legacy in purple and the Golf Village section in gold. If you go further north, the Silver Springs community separates Green Valley North in red, from the others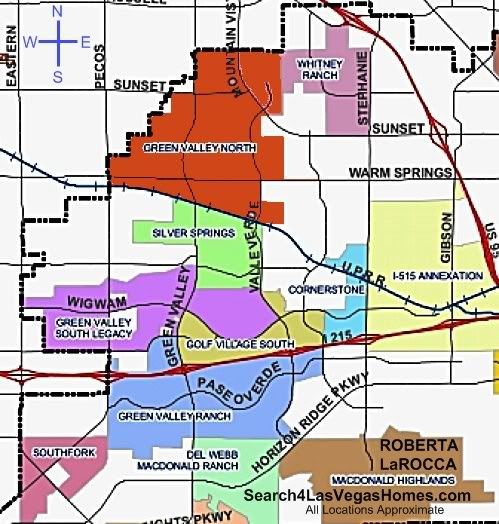 There are a number of neighborhoods located within Green Valley Ranch, with trails and parks in various locations. At Paseo Verde and Green Valley Pkwy you'll find the Henderson Pavilion for outdoor entertainment, the Multigenerational Recreation Center, and the Paseo Verde Library that also have great views of the Las Vegas Strip. Just across the street is the Shopping and lofts of The District that is adjacent to the Green Valley Ranch Resort.

The pictures will give you a glimpse of the some of the homes, neighborhoods, parks, and trails you'll find in Green Valley Ranch, as well as some of the commercial, entertainment, and views of this wonderful community. To see the pictures full screen, instead of using PLAY, click the HD / Full Screen button on the bottom of the player below, and when finished click it again or use the ESC key to return.
Can't see the XML Flash player embedded in the current posting? To view this and all my other Las Vegas slideshows, including some of the interesting neighborhoods and events found in and around the Las Vegas Valley,  CLICK HERE.
If you are interested in relocating to Las Vegas or would like information on Las Vegas real estate, please email me, Roberta LaRocca, at roberta@search4lasvegashomes.com, or call me at 702-354-8988. I look forward to hearing from you!