With the national economy bouncing around like a ping-pong ball, some become cautious while others have a vision of opportunity. The latter applies to Las Vegas' GSG Development, that is proposing a 40 acre mixed use project on a section of the 313 acre Cornerstone Redevelopment Site in Henderson, NV. It's part of a former industrial site located north of the 215 Beltway and Wigwam Parkway at Stephanie St., south of the Arroyo Grande Sports Complex and west of the soon to be Cornerstone Lake Park.
The project is being called Park Heights, and it calls for 1700 residential units and 851,000 square feet of office, hotel, retail, and civic space. The nearly 15 acres of open area landscaping proposed would be double the current city requirements. The residential component proposed will be comprised of two 30 story 330' towers, and a 13 story Luxury Condominium Tower as well as a 13 story hotel located on opposing sides. Central to the development and near the park would be a 12 story office tower, with low rise office and retail throughout the remaining property. The adjoining 100 acre park and 20 acre lake has been approved by Henderson Parks and Recreation, and is already in the final planning stages.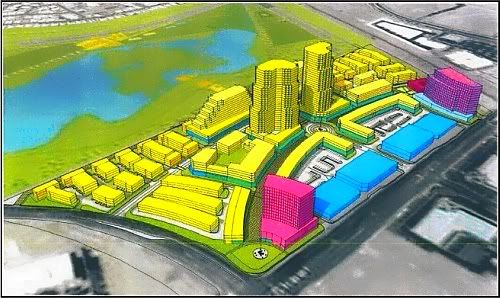 Courtesy Rendering
This will be the third proposal for the Cornerstone site, and the largest of them all. Because of it's building height and potential for additional traffic, Henderson Planning Commission will hold off on any approvals until next month. A traffic study is underway, but city staff recommends approvals as there are measures in place for the developer to either accommodate additional road improvements or scale back the project if congestion becomes an issue. The planning commission is also requesting more detailed drawings of the high rises before granting a waiver to build above the city's current 60' limitation.

While redevelopment projects often have many hurdles to clear and often several suitors before they materialize, it's encouraging to see them being brought to the table, especially in today's difficult market conditions. There are also others that are currently looking to invest in the future redevelopment of Las Vegas, such as the Lady Luck and Union Park projects in downtown. Continued investments such as these are exactly what is needed for economic stabilization and recovery by creating more new jobs and opportunity, and in what better place than in the Las Vegas Valley where it's can-do attitude has a history of beating the odds.
If you are interested in relocating to Las Vegas or would like information on Las Vegas real estate, please email me roberta@search4lasvegashomes.com or call me at 702-354-8988. I look forward to hearing from you!