Yes, I've blogged about San Gennaro before, but it's such a big event here in Vegas, I thought it worth another mention. After all, it's grown to include spring and fall at it's location on the southwest side. Besides, I just posted about another cultural event here in our Melting Pot valley, the Hawaiian Festival in Henderson, so this was a natural fit.

If you haven't noticed from my name, I'm of Italian descent. My parents came out for a 2 month visit when I moved here and decided to stay. It was a surprise that my dad would chose to move across the country, leaving behind his established Italian traditions and relatives, but now we get many visits from 'the family'. It had always been his dream to live in a Sun City, and he finally had his chance with 4 to chose from in Las Vegas. I've blogged about them before, McDonald Ranch and Aliante, and they're also found in Anthem and Summerlin.

This festival and those family visits helped him make the move. It often appears like we're reenacting scenes from the Godfather, and as we might be joined by a Vegas family friend that was one of the cast members from the movie Casino, it isn't hard to imagine. We often joke and call my father 'Don' LaRocca, and yes, over the years the name has caused some confusion with those in the witness protection program...or worse.

He is a WWII veteran, and after the war he continued to serve in Italy, getting the chance to visit his family's home village and some of his relatives. He had been his family's first born in the US, so a first meeting for them all. He's pictured here in his uniform with his distant family surrounding him and his jeep.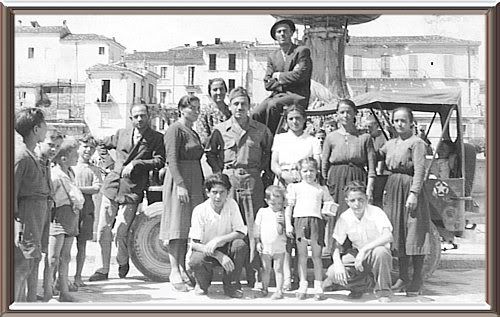 CLICK FOR LARGER IMAGE
After the service my dad worked hard and started his own businesses. A dedicated family man, he put his family first even before his own, and didn't marry until late in life. I didn't come along until a few years later. As you can imagine he's old school, hard core Italian though and through. He should be, he just celebrated his 90th birthday a few weeks ago! He's still going strong and that's why he really enjoys San Gennaro and hearing the music, the dance, and the language spoken in the home of his youth. He fills the gaps between family and festivals with the local Henderson Italian Club, and of course he's on his community Bocce League, when he's not in his community fitness room or using his pool. I'm glad he has so much here to keep him active.

Now you know my connection, but don't think for a moment that San Gennaro is an exclusive event for Italians only. Everyone gets to be Italian in Las Vegas' Little Italy for a few days. The entire community enjoys all of it, the food and music, the party atmosphere, and the carnival, rides and fireworks. Even now held twice a year the place gets packed as you'll soon see. Really amazing in a place like Las Vegas, with so much in entertainment and events to choose from.

Entertainers come from within the Las Vegas Italian community, nationally, and even from across the pond in...Big Italy. From Las Vegas' Walk of Stars Tony Sacca, Tony DeBruno, Enzo Salvaggi, Mike Bari & Sal Rainone, and from Italy, Stefania Zarretti and Ciro Giorgio, plus many, many more. For more information, click here to visit the San Gennaro Feast website.

Now on with the show! To view full screen, simply click the HD button on the bottom of the player, and when finished click again to return. If unable to view this XML Flash player embedded in the current posting, or to watch this and my other Las Vegas slideshows, including some of the interesting neighborhoods found in and around the Las Vegas Valley,  CLICK HERE.
If you are interested in relocating to Las Vegas or would like information on Las Vegas real estate, please email me roberta@search4lasvegashomes.com or call me at 702-354-8988. I look forward to hearing from you!