Sure there's lots of information out there on the Internet today, even plenty of blogs like this one. Still, there are an awful lot of details you may be missing, or simply assumed to be true about this oasis in the desert. It's one of the most talked about, written about, and filmed cities in the world.

Soooo let me ask.... you think you know Las Vegas?

Maybe you've even been here many times, flown into McCarran and hopped a cab or a limo to that luxury resort on the Strip. Bounced around to any number of resorts from Sahara to Mandalay Bay, or even as far south as South Point, so you think know Las Vegas. Well technically... if you haven't been north of Sahara, you've never been to Las Vegas!
Alright..... just where the heck is Las Vegas? Well that would be in the City of Las Vegas, and it can get a little more complicated from there. From the Strip, the city starts at Sahara Ave. and goes north...up until you hit the City of North Las Vegas. Except the northwest part, because that's also the City of Las Vegas, except where it isn't. Confused? Yep, I thought so. I've even heard the local news media get it wrong, reporting about a decision made by Las Vegas city council that 'affects all valley residents', when it doesn't. There are people that live here that don't know exactly where they are, or why they can't vote for Oscar Goodman for mayor when they 'live in Las Vegas'. It is their mailing address, after all. Not to worry, Oscar won't turn down a Martini's with the Mayor invite, even if you can't vote for him.

Actually it's pretty simple to understand and efficient. There are 3 cities in the Vegas Valley, Las Vegas, North Las Vegas, and Henderson. Slip down to the southeast to go through Railroad Pass and you have Boulder City next door. They are all located in Clark County, NV, that is about 8084 square miles, nearly the size of New Jersey. Those are the 4 entities that are in charge around here. There are services shared between the City of Las Vegas and Clark County, like the police department, that makes it much more cost effective and actually less confusing. The county I came from in PA has 130 municipalities with about as many police departments, emergency services, and scores of school districts, some parts even covered by adjoining counties. Talk about feeling like part of the wheredaheckarewe tribe!

So where exactly is the Las Vegas Strip? Well it's in Paradise, Winchester, and now also Enterprise NV, of course! Oh, but now you're confused again. Well let me keep explaining...

There are a number of 'unincorporated towns' that are in and around Las Vegas like the three I just mentioned. They have either a Town Advisory Board or Citizens Advisor Council that comes under Clark Co. government's council. The county provides services and regulation, and handles zoning, permitting, and other matters for these towns, and yes, they also have a Las Vegas mailing address. The court system referrs to this area as Las Vegas Township.

The cities can annex land if it's approved by the residents, but the people from these areas have chosen not to become part of them. You can even find some unincorporated areas within the cities themselves as small islands of county governed property, and that can change from time to time. Take a look at this map and you'll have a better idea. If you click on it, there is a pdf file that can be enlarged to see the details. If you need the free Adobe Reader for pdf files, you can download it here.
If you take a closer look at that map, you'll also see the Strip...which doesn't officially exist even though you'll hear government officials reference it. It's a nickname for the Clark Co. gaming district running along Las Vegas Blvd., that stuck. It's even grown over the years. For the longest time it was considered to be from Sahara to Russell Rd. at Mandalay Bay where a little further south you'll find the famous 'Welcome to Fabulous Las Vegas' sign. From there it stretched a little further to just past Sunset Rd. as the gaming district was expanded to include the former Vacation Village, now Town Square. In just the last few years the gaming district was expanded all the way to St. Rose Pkwy to include the South Point Casino Resort, a proposed Casino Resort from Olympic Gaming - the developers of Southern Highlands, and a parcel owned by Station Casinos for future development. So what was once labeled the 'South Strip' may become more of the Center Strip in the future.

The reason I thought all this would be good to know? A better understanding of the area and the way it's structured. I get calls from home buyers that might say "I want to buy a home in Las Vegas". Oooh-Kaay....so are we talking somewhere in the 600 square miles of the Vegas Valley, or the 132 square miles of the City of Las Vegas? Is the base of MT. Charleston good, or something a little closer to downtown that's 12 miles away, even further to the Strip, or the airport that isn't in the city of Las Vegas? A lot of people don't understand the territory.

The same goes for those calls and emails of "I want a home in Henderson." The City of Henderson is now at 103.68 square miles, 62,797.63 acres and still growing, so we might need to narrow that down just a bit. Or I might be asked about homes in Henderson's 'Green Valley'. Would that be Green Valley High School zoning, or Green Valley Ranch, Green Valley South - Legacy and / or the Golf Village, or are we talking Green Valley North? Perhaps one of the communities between them will do? Yes, there are actually many choices, and several master planned communities and others to chose from.

Another example is Summerlin. No, it's not a city or a town as many believe, it is just a very large Master Planned Community. It's about 9 miles long north to south, and over 23,000 acres and made up from the 25,000 acres Howard Hughes bought back in the 1950's for building an airport and factory for Hughes Aircraft. He bought the majority of the 'worthless land' from the government for a whopping 25¢ an acre. Obviously those plans never took shape, and with a few land swaps for conservation areas over the years, it eventually became Summerlin, named after Hughes' grandmother. There are 4 main areas. Summerlin north is above Charleston Blvd and in the City of Las Vegas. West on the west side of the 215 beltway, Centre to the south of Charleston and east of 215, and South that is below Desert Inn / 215 curve at Flamingo, and those are all in unincorporated Clark Co. Within the entire community are 20 subdivisions with a variety of choices and price ranges. Gated, not gated, golf course, country club, and age restricted. Each has there own Home Owners Association, and belongs to a Master Association with the exception of the 2 age restricted communities of Sun City and Sienna. So there are some differences in the amenities offered in each subdivision.

There are many more communities throughout the Vegas Valley that you may not have heard of. I've blogged about a few of them, The Lakes, Rhodes Ranch, Tuscany Village, Whitney Ranch, and Toll Brothers at Inspirada are just a handful of what is out there. Even the Las Vegas Strip is becoming a new community, featuring unique urban high rise condo living with plenty of construction going on. The largest project, the City within a City, MGM's City Center on Las Vegas Blvd at Harmon opens fall of 2009. These all offer many different lifestyles to chose from, so you just might want to know a little more about what can be found that's a fit for your personal needs.

One last common misconception I hear a lot of, is that Las Vegas has so much land yet to develop with all those wide open spaces of the desert. Actually we're surrounded, not only by the mountains, but by federally owned lands. Conservation areas, wildlife refuges, National Park recreation areas, Nellis AFB and the Nellis range. Developable land is becoming more limited, and you can see how little there is in on this map. The gray area shows land that is currently available for public use, the boundary of available land by the red and white dashed line with the gold color inside it showing what is left to be made available. (Click on the map for a larger image, or CLICK HERE for a regional map of Southern NV. showing the limited available land in white.)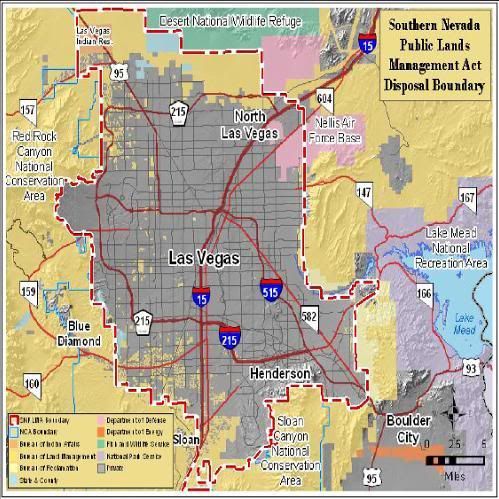 As you should be able to see from this post, there is a lot to know about an area before you make your move, and your investment. What I've mentioned here is merely the tip of the iceberg, and just some of the common assumptions that are off base. While Internet property searches are a great tool, a good real estate agent can inform you of all available choices, and provide much more detailed information to help you with your home buying decision. That spiffy community center that you drove by or saw online and 'thought' it was part of the same community? It may or may not be part of a specific subdivision, effecting your life and value. HOA fees, Master Plan Fees, and Improvement District assessments can add on to your monthly budget.....or not if they don't apply. Why the amenities of one home affect the value of it, and the reason another nearby similar home that doesn't have them may offer less. So many items you probably won't want to discover after you've made your move.

While the Las Vegas Valley flows freely from one area to the next and often hard to distinguish any transition, or even be an issue for you, there are any number of things that can affect your home purchase decisions, and it can pay to have that extra knowledge of a local REALTOR® on your side.
If you are interested in relocating to Las Vegas or would like more information on Las Vegas real estate, please email me, at Roberta@RobertaLaRocca.com, or call 702-354-8988. I look forward to hearing from you!

Click the Black Bar to Subscribe to my rss feed


Search Las Vegas Homes and Foreclosures for Free - No Signup Required!