I always try to do my best for my clients. As their agent, I believe it's my job to perform in their best interest in finding a home that truly suits their needs, and offers the greatest value for their particular situation. This becomes even more critical for my out of town clients. They may be unfamiliar with all the lifestyle choices and unique communities that can be found throughout Las Vegas, or simply overcoming the difficulties of home searching from hundreds to thousands of miles away.

Having made my own cross country move, I try to provide the type of assistance I would expect for myself. I spend time on research, quality photography and video, and using technology to offer the best possible customer service that I can give. I have various software, mobile communications including broadband service, and have a somewhat elaborate wired and wireless personal network with 5 desktops and 3 laptops, all with network printing. This to provide reliability and efficiency, and to avoid delays and errors.

Unfortunately today, the day after opening another client's escrow and submitting the paperwork to my office, I get the dreaded call..."Are you close by?....You need to stop in the office as soon as possible." The horror sets in. Uh-oh! What went wrong? Did I overlook something? On the drive over I'm retracing everything I did. I can't imagine what I could have done, or not done, that couldn't be handled over the phone and required a personal appearance. This must be serious.

I arrive at the office and grab my brief case with hard copies of all the documents, preparing to own up to and correct whatever error I could have possibly made. As I enter, I'm greeted by Teri at the receptionist's desk and there's a temporary distraction...an absolutely lovely fruit basket is sitting there. Beautifully carved and arranged with delicious looking fruits that even included chocolate dipped strawberries.

(Please Note: If viewing this other than my original post and pictures not visible, please click here to view correctly.)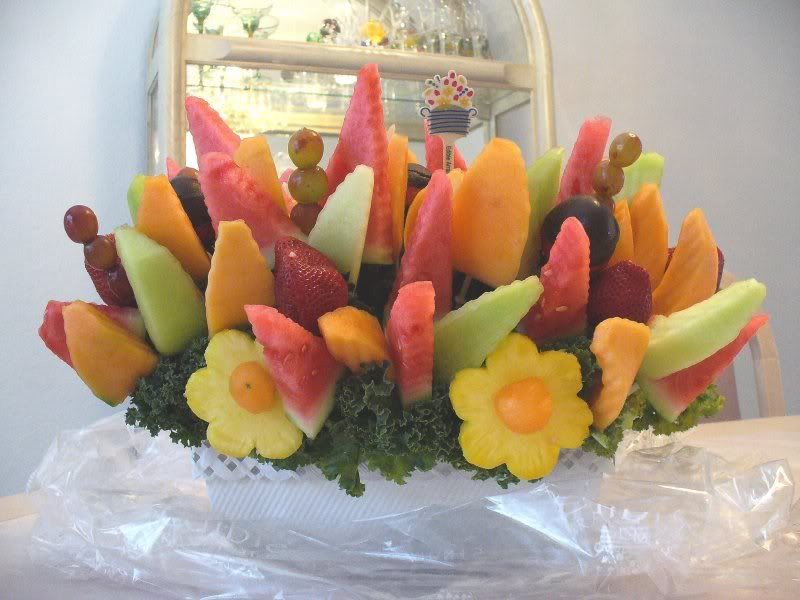 Teri then asked how I liked it. I replied it was beautiful, and then she said good, because it's yours and why I needed to come in. The sudden relief from the horror turned into...What? What was this for? I didn't have a clue. I had to open the card, and what an amazing surprise. It was from Traci and Rob, who had recently closed on their property. It was a somewhat unique situation as they needed to keep their present home for a while, and I was able to find a house that seemed to be a perfect fit. They were an absolute pleasure to work with, just wonderful people as were their children and family, but I never expected this. Let me share the note with you to give you an idea of just how special they are.
Roberta,

THANK YOU for assisting us in finding a fantastic home in LV!! We could not have done it without you You made it easier than we ever envisioned.

Please accept this small token of our appreciation for your hard work and excellent customer service. God bless you.

Yes, it's people like this that make you realize what is truly important...helping others. It makes you understand that hard work, and long hours on the run or researching, and those moments of frustration we all go through are worth while. It also makes me look at how fortunate I am to be in a profession where I have so many other opportunities. Meeting great people, traveling outside in the sunshine, and exploring the Vegas Valley from it's many interesting communities to luxurious living. I get to do so much, and earn my keep doing it.

I just wanted to share this with you, since we can all use a little boost to help us remember what really matters, and doing our best offers so many rewards.  
If you are interested in relocating to Las Vegas or would like information on Las Vegas real estate, please email me roberta@search4lasvegashomes.com or call me at 702-354-8988. I look forward to hearing from you!