On the eve of the 10th anniversary of his death, May 14, 1998, the US Postal Service unvieled the Frank Sinatra stamp in New York, Las Vegas, and his home town of Hoboken, NJ. These three cities were chosen because Frank had such strong ties to them all.

For Las Vegas there are many, from his music to his Rat Pack antics, and even his casino investment, that has helped shape the Las Vegas of today. He introduced everyone to the place where he escaped to unwind and millions continue to followed his lead. Las Vegas was said to give Frank peace, especially from his favorite color "5 O'Clock Vegas Blue", the shades of a Las Vegas sunrise. The skies here are so incredible.

The event in Las Vegas was held at the center alcove of the Bellagio Fountains on Las Vegas Blvd. The USAF provided the Color Guard from our own Nellis AFB, and had the fountains in sync to the Star Spangled Banner. Both Clark County and the City of Las Vegas had proclimations for Frank Sinatra Day. USPS Governor Jim Bilbray along with Tina Sinatra did the unvieling as Frank and the Fountains played in the background. Tina then spoke of her father's love of Las Vegas, and how he wondered if he would be remembered when he was gone, even if someday he would have a stamp in his honor. She went on, sometimes tearfully, to thank all the people who have not only remembered him, but have made him even more popular today.

The dedication closed out with something that many Las Vegas vistors have seen and heard at the Bellagio Fountains...."Luck be a Lady", one of the favorite performances of the many done there. The stamps were available for sale in the Bellagio and Wynn gift shops, and later in the day Sinatra family members will be gathering at Wynn to autograpgh them. Even daughter Nancy was on a plane from New York to make this event.

One of the great things about living in Las Vegas is you have the chance to be a part of so much. For those of you who couldn't make it to any of the Sinatra events held today, a few pictures to share, and I hope you enjoy them.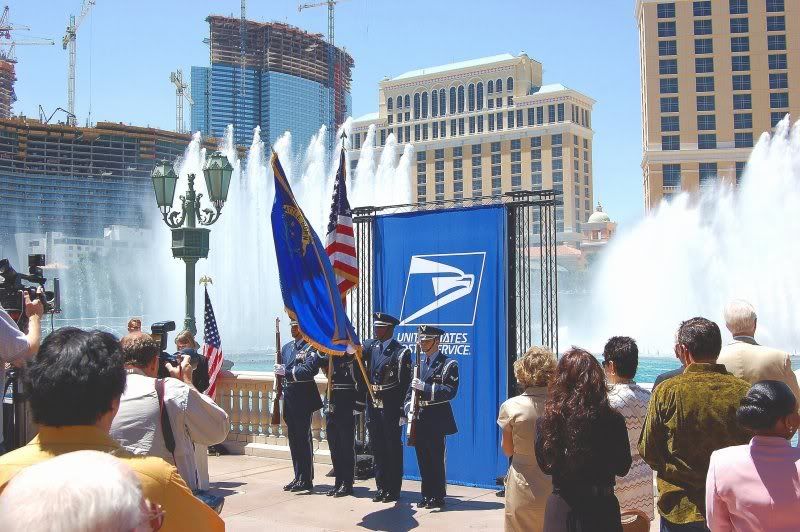 If you are interested in relocating to Las Vegas or would like information on Las Vegas real estate, please email me roberta@search4lasvegashomes.com  or call me at 702-354-8988.  I look forward to hearing from you!