If you were expecting a Casino Montelago reopening in 2014 at Lake Las Vegas, well.. apparently it's not.  In spite of hopes that the new property owner, Kam Sang Company's Newage Lake Las Vegas LLC., would have a new casino operator reopen the casino this year, it may now be some time before it happens.
It wasn't for lack of trying.  Apparently the application for casino licensure, dba Newage Gaming LLC.,  had been in the works for some time. Unfortunately their application was denied by the Nevada Gaming Control Board and Gaming Commission during their May 2014 meetings. They have since filed for a Closure Plan for Casino Montelago with the City of Henderson. It is scheduled to be addressed by the Henderson City Council at their July 1, 2014, with a recommendation for approval.
A Closure Plan does not mean this is a permanent closing. It's a needed process to maintain the casino's conditional use permit until a new operator is licensed and other approvals and renovations have been completed. In the public records it states that they are asking for *3 years as they are interviewing operators and licensing approvals themselves can take a year or more. Then floor plan and key employee approvals 3 to 4 more months, followed by another 3 to 4 months for remodeling. Of course if they should partner with an existing licensed operator I would assume that time frame could be trimmed.
*In response to questions I've received, let me clarify the 3 years. It's from the time the casino closed in 2013. They are asking to extend this closure to reopen by Nov. 2016.


WATCH RELATED VIDEO -  Lake Las Vegas Homes and Community Video Tour


CASINO MONTELAGO REOPENING - CLICK FOR LARGER IMAGE
Casino Montelago originally opened in 2003, and closed in 2010 from the economic downturn. It had reopened again under a new operator in 2011 with fireworks and a huge crowd. Sadly that excitement would be somewhat short lived. It appeared that the new management's lack of live table games and what seemed to be a much thinner selection of machines had hurt it's appeal. As time went on they scaled back even more, as did it's clientele. The casino closed again in October 2013, with "failure to meet contractual obligations" cited by landlord, Newage.

LAKE LAS VEGAS MONTELAGO VILLAGE - CLICK  FOR LARGER IMAGE

In spite of this, Lake Las Vegas itself has been experiencing a resurgence. The beautiful and upscale 3600 acre Mediterranean styled community centered on the lakeside Montelago Village had been hit hard during the recession, but has since been headed in the right direction. It was in the national spotlight when selected to host an Oct. 2012 presidential stay, and it's turn around noted by multiple media sources.
Not only had Kam Sang Co. invested in the hotel and casino property in Nov. 2012, billionaire John Paulson's Raintree Investment Corp. had purchased 900 acres in Aug. 2012 and hundreds more since, including two golf courses. They are currently in the process of reopening the Refection Bay Golf Course, scheduled for October of this year.
Lake Las Vegas Parkway, the main entrance to the development, has been repaved and landscaped. Trails and a park have been added. By August of this year, Galleria Dr. is scheduled to be completed, adding a direct connection to the retail and hospitality corridor anchored by Galleria at Sunset Mall and Sunset Station Casino. This route will also provide access to the I-515/93/95 expressway, the soon to open Cowabunga Bay Water Park, and the proposed Valley Health System Medical Center of Union Village.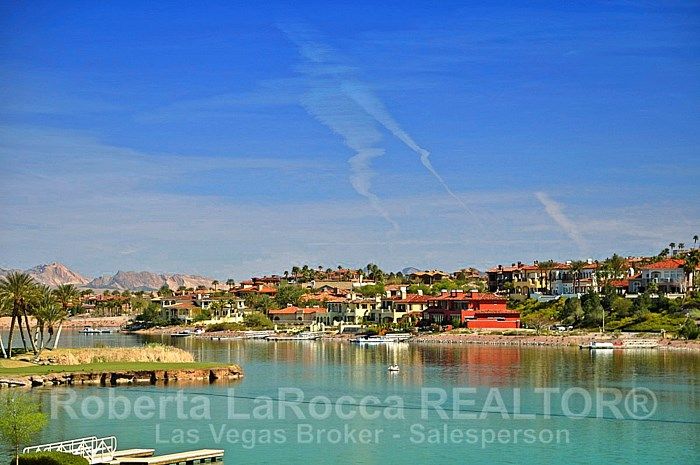 LAKE LAS VEGAS SOUTH SHORE HOMES - CLICK FOR LARGER IMAGE

While all this has been happening over the past two years, the beauty of Lake Las Vegas was once again shining through. It caused Home and Condo sales to turn the corner and new homes being built once more. Just this past week I was notified of only 3 remaining single story new homes left in Bella Fiore neighborhood by Harmony Homes. It's said other new builders will soon be adding their own offerings in the community. With new ownership and investment in place, Lake Las Vegas has had new direction, and in turn, greatly revitalized itself.
It seems all the new parties involved realize the importance of reopening Casino Montelago once more. In a relatively short time they have worked miracles with the community. Hopefully they can do the same with this situation.
If you're interested in relocating to Las Vegas, buying or listing a home in the Las Vegas area, I can help you, and I hope you allow me that opportunity. I can be reached by email at Roberta@RobertaLaRocca.com or call 702-354-8988.  I look forward to hear from you!