For an interesting Las Vegas Day Trip, yes, a Jackass is welcome in this town of Oatman, AZ. Many of them visit each day, taking over the main street. The shopkeepers even know them by name, and the names of their offspring. No one seems to mind if they panhandle for food among the shoppers and apparently encourage it. If they should get a bit too rowdy, the store owners might give them a quick spray of water to get them to back off a bit.


Oddly enough, the residents of this town actually need these wild asses for their own survival. Almost all the stores play on the fact that they're hanging out in their downtown. It really is these sometimes pesky creatures that keep them in business, even if they may grab at your shopping bag. It's this and the town's second claim to fame, being located on a remaining section of historic Route 66, the 'Mother Road', that keeps Oatman on the map.

The town's story goes back to the 1800's and the gold rush of the west. It's very similar to what took place in the Eldorado Mountains on the other side of the Colorado River in Nevada, also a previous Las Vegas day trip post, Las Vegas Real Estate - Techatticup a Real Gold Mine, take a Tour!
Prospectors also came to the AZ Black Mountains in search of their fortunes, staking claims and living in tents. No major strikes were found until 1915 when a vein of rich gold ore was discovered, and Oatman quickly became a 'BoomTown'. In one year it was said the population swelled to 3500, and over a short time peaked at 10,000.


During it's operation the mine produced $13.6 million in gold. That value was at the government controlled price of $20 an ounce of that time. In today's market, with prices hoovering around $1300 an ounce, it would equate to roughly $880 million! The region was home to the last gold strike of the desert, with the area producing nearly $40 million in gold, or $2.6 billion at today's prices.


Unfortunately for Oatman, their main mine's success was short lived. It only operated until 1924. Then as WWII broke out in 1941, the remaining area mines were closed by government order. The miners were needed to produce other metals and minerals for the war effort. As mines were abandoned, the burros working them were simply set free. Today their descendants roam the mountains and some of them come into town and take it over.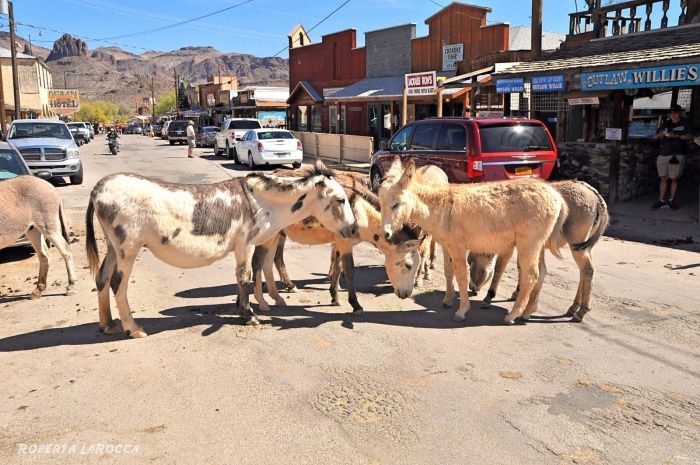 After their own mine had closed and the others that followed, Oatman was still able to carry on. The town was located on the historic Route 66, the 1926 U.S. Highway System to the west coast, running from Chicago to Santa Monica, CA. Their industry switched from mining to catering to travelers on this 'Main Street of America'.


Especially for the road north of town, this part of Route 66 was a climb or a drop on a narrow 2 lane road, winding through the mountains with sharp curves and no guardrails. A new route, that would become I 40, was opened in 1952. The diversion of traffic made the town become nearly abandoned by 1960, a fate suffered by so many of the once prosperous mom & pop businesses and towns of the Mother Road.


Normally that would mark the end, but Oatman is once again the 'Ghost Town that wouldn't Die', saved from extinction, and from such an unlikely source. It's those wild burros coming down from the surrounding mountains and hanging out on the main street of the once bustling Oatman Highway. This out of the way place became a curiosity to experience. With it's asses and history embraced by the residents, you can take a step back in time, possibly finding yourself in the middle of a wild west street gunfight between the town's volunteers.


Getting your kicks on Route 66, and other songs helped create a resurgence of interest in the highway. That brought even more to Oatman's visitor counts, said to have reached 500,000 a year. It's become a favorite stop for tourists, motorcycle rides, and classic car cruises. These old autos add their own era to the historic buildings of Oatman with many structures still original. It creates a blend of post-war Americana with what would be considered the primitive life in the early American West of just a mere century ago.


From Las Vegas, it's roughly 100 miles to Oatman, and 2 options for the drive. The first heads south from Boulder City, following U.S Route 95, then east on 163 to Laughlin, NV. Crossing over the bridge into Bullhead City, you take AZ 95 to your right. As you pass through Fort Mojave, you'll make a left turn onto Boundary Cone Rd., which will become Oatman Rd. and merge into Oatman Highway.


The other option from Boulder City is taking 93 over the Hoover Dam Bypass Bridge and follow the road to Kingman. Then a short hop on I 40 west to exit 44 for Oatman Highway, a right and then quick left from the exit. You can combine these to into a loop, or turn it into another stop or an overnight with the casino resorts along the Colorado River in Lauglin, NV., or the Route 66 museum, historic buildings, or wineries found in Kingman AZ.
Las Vegas is a gateway to the many natural and man-made wonders of the west, and to towns like Oatman, AZ or Nelson, NV., that capture it's history. Many of Las Vegas' 40 million visitors may use part or all of their trip to explore the treasures of the southwest. For us locals living in Las Vegas, it's a quick getaway to so many of these unique places whenever we have a bit of free time.

Watch the video of Oatman, AZ. to catch a bit more of this town awarded a Hampton Hotels 'Save a Landmark' program's 'A Site Worth Seeing.'


If you're interested in relocating to Las Vegas, buying or listing a home in the Las Vegas Valley, I hope you'll allow me the opportunity to assist you. I can be reached by email at Roberta@RobertaLaRocca.com or give me a call at 702-354-8988.  I look forward to hear from you!

Click the Black Bar to Subscribe to my rss feed


Search Las Vegas Homes, Short Sales and Foreclosures for Free
 No Signup Required!