This is what you may have heard from a recent report out by Scripps Institution of Oceanography. It claims that Lake Mead has a 50% chance of running dry by 2021. Being from Las Vegas, I'd like to add to this gloom and doom report. LAS VEGAS HAS ALREADY RUN OUT OF WATER!!! Yes, that's right, it ran out of water as predicted when the population reached 900,000. That happened in 1993, when the population in Clark Co. topped that figure.
Amazingly, the population today is now over 2 million, the visitor count up to almost 40 million a year with many more mega resorts, and yet we can still flush out toilets and haven's dehydrated and turned into dust. How? Planning that began long before the current 500 year drought, and using conservation and science. Yes we have the technology.
Those water features you see with pirate battles and dancing fountains? Highly recycled reverse osmosis purification of grey water and trapped underground water. The resorts of Las Vegas use under 10% of the water supply, but through recycling and what they put back into the system, they consume only around 3%. The entire community's water system also uses water recycling and gains return flow credits for the water it puts back into Lake Mead. Residential has the highest water usage in the valley, and the primary waste was in watering landscape. Both business and residential customers have been educated to use water smart plants and paid turf replacement programs have been in place for years. New technologies have been used, with more recycling and water storage. It's why other areas facing drought, like the southeast, are now looking to Las Vegas for solutions to their more pressing water issues, with some areas reaching only days of supply.
So back to the Scripps "predictions". It assumes continued drought from global warming long into the future. If you go back to the mid 70's, there were "predictions" of global cooling and a second ice age. Seems that prediction was way off base. If you watch your local weather, I think you'll agree they often have trouble predicting what will happen next week, let alone next decade. Then they're saying it's a 50% chance of this happening? I guess I could say there's a 50% chance of sun tomorrow, and be half right.
Obviously you can't deny there has been a rise in temperatures and changes in weather patterns, as has happened throughout earth's history. This 500 year drought (yes, it's happened before) in the West is a perfect example, as is the drought in the southeast. The strong hurricanes that have hit the gulf in recent years were another sign. Strangely enough, the "predictions" for continued and more frequent storms in the gulf didn't happen this past year. Even better for the West, precipitation has increased, and while one season isn't a fix, the January snow pack in the Colorado Basin was around 135% above average and more snow since then. That snowmelt supplies the lion's share of the Colorado water to Lake Mead. Scripps' study doesn't seem to predict this happening.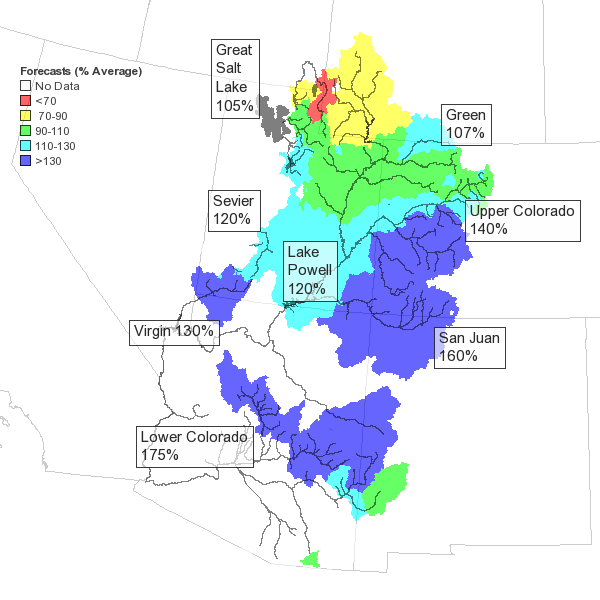 It appears this climate change could create one flaw in the Scripps timetable. Another thing they seemed to have missed is the new agreement between the Colorado water states. The original 1922 agreement had a "use it, or lose it" policy that forced the release of Arizona's and California's 96% water share from the lake. This new pact now allows them to bank their water in Lake Mead, and calls for new reservoirs to be built in both states, along with cooperative agreements for creating other sources, such as water desalinization plants. Since this was put into effect last Dec, water levels in Lake Mead have actually risen, slightly over 6' in 3 months......something that Scripps didn't include before releasing their study.

If you didn't notice from those AZ & CA figures, Nevada only gets a 4% share of the water from Lake Mead. Yet since this report I've heard media claiming Las Vegas needs to conserve water or it will not only drain the lake, but will dry up and blow away. That would be far from the truth. First, Vegas uses very little of the water, so it's 300,000 acre feet pales in comparison to the 9 million acre feet that has been released downstream each year. If Scripps' dire predictions of a "dead pool" were correct, when the lake would drop below 895' and water could no longer go past the dam, Las Vegas would still have water available. It will have the only low level intake at the former riverbed level, and AZ and CA would have a difficult time getting their water past all that concrete. While they implode an awful lot around here, I really don't think they'll be setting charges at Hoover anytime soon. I'd suspect that efficient conservation instead of the wasteful flood irrigation of the farms in Southern CA, or buying their large water rights outright, would be a more viable option.
Another plus for the Vegas water supply, and Lake Mead, is the ground water pipeline from northern Nevada. Again, it is smart planning to have an additional source of supply, plus with recycling it will add return flow credits. One well is from a formerly proposed MX missle site in northern Clark Co. That well produced an amazing 4000 gallons per minute. The water from it would be pumped into the muddy river that flows into Lake Mead, and could come online by 2010. This and any other well would be subject to ground water level monitoring to prevent any ecological damage. To protect the lake from larger amounts of warmer surface water entering through it's natural "wash", and the potential for soil erosion, silting, and algae blooms, another tunnel will place the return at several points at the lake bottom. With more well thought planning, that 9 mile downhill flow will turn a series of turbines to generate power to help pay down the cost of the project.
I believe these droughts from warming have been a wake up call that everyone, and even those in rainy climates need to better manage their water resources. Instead of gloomy predictions and woe is me, it's time to look into the future and think smart. Just look at what Las Vegas has accomplished so far in the desert with 4" of annual rainfall and a tiny river water share.