David Perrico's Pop Evolution Band, a Vegas Secret, appears on select Tuesdays at the Stratosphere Hotel & Casino Theater. It is Live Music at it's best, with an amazing 20 piece band.
Now don't get the impression that this is a simply a swing or jazz band from your parents or grandparents age.  The 'Pop Evolution' name will give you your first clue. As the Big Bands have played the popular music of their times, this band has evolved to create much more contemporary music. You'll hear  songs from Rush, Sting, Heart, Van Halen, Motley Crue, Foreigner, India Arie, Britney Spears, Cee Lo, and Chicago. Plus you'll get some original compositions from band leader, arranger, and masterful horn player David Perrico. On lead vocals, you'll hear the versatile voice of the amazing Naomi Mauro.
Now I realize technology has spoiled us. Today we have access to high quality recorded audio in so many shapes and forms. From our computers to our televisions, iPod's to phones, satellite radio in our cars. What used to be a home stereo is now multi-channel surround sound with built-in speakers in our homes. We can have music playing just about anywhere or at any time keeping us entertained in the background of our lives.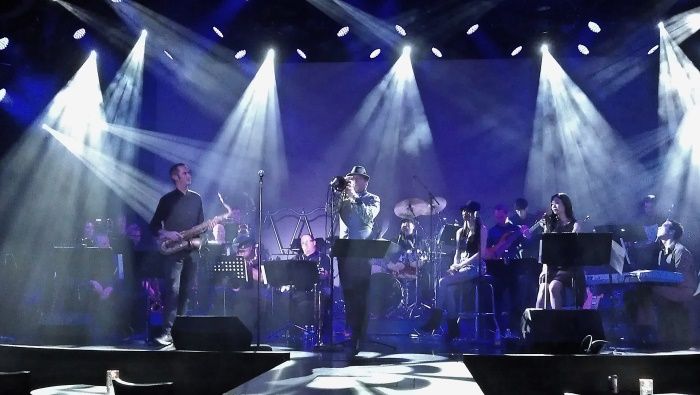 Click for Larger Image
Yes, music is a part of us all. I can't imagine anything without it. From movies and TV, to shows on the Las Vegas Strip, nothing would be the same without it. Yet with all that sophisticated technology and all the music we listen to in our daily lives, there is still something missing.
Real music doesn't come from  a machine, or bits and bytes of digital code, or even scratches on a piece of vinyl. It's created by talented humans. That may even be what forms our strong desire to have it constantly surrounding us all.
The magic of witnessing that creation, with all those unique sounds blending together, can only be seen and heard in live performance. These are people who have spent years mastering their art, taking oddly shaped pieces of wood or brass, strings and reeds, or perhaps beat on a 'skin', to produce such pleasant sounds. Then the skill it takes for all to combine them into a crisp and clean melody, well that is something to experience.
At the Stratosphere Theater at these late night performances, that is exactly what you'll have, an experience in music so much more than listening to an edited studio recording. It's that amazing visual combined with the skills and sounds of an incredibly tight band performing live. These aren't simply musicians, they are the backbone of the top shows up and down the Vegas Strip. They're also the ones who can get the call when a touring headliner comes to town and needs local musicians for their show. Yet on these very special  "Vegas Secret' 1st Tuesday of the month, they all come together to perform.
The Stratosphere Theater itself is actually more of showroom that you'd expect to find in Vegas' prime days of live entertainment. No rows and rows of seats, but an intimate setting with tables and booths, along with cocktail service. Also in that era of Vegas style, after the show you can meet and greet with these fabulous musicians in the lounge downstairs at McCalls.
Click for Larger Image
Now you may be wondering how much an exclusive Vegas show like this will set you back. Here again you'll be pleasantly surprised. Tickets are only $20, and half of that price is donated to the Las Vegas Academy of the Arts High School. These fine musicians want to help inspire those young students to share their passion for performance.
So now the secret is out! If you really want to enjoy a very special Las Vegas live music performance, then you'll really want to check out David Perrico's Pop Evolution band at Stratosphere Hotel and Casino, Las Vegas.
Tuesday Feb 4, 2014 show will be recorded. Don't miss it!
Having so many talented 'neighbors' is just another reason why Las Vegas is such a great place to call home.
If you are
interested in relocating to the Las Vegas area, or listing or buying a home in the Las Vegas, I  hope that you allow me the opportunity to help you, so please don't hesitate to get in touch. I can be reached by email at Roberta@RobertaLaRocca.com or give me a call at 702-354-8988.  I look forward to hear from you!

Click the Black Bar to Subscribe to my rss feed


Search Las Vegas Homes, Short Sales and Foreclosures for Free
 No Signup Required!


- See more at: http://activerain.com/blogsview/4302829/cadence-nv-new-las-vegas-master-planned-community-in-henderson-nv#sthash.PZh9koo0.dpuf