Whether you're looking to buy a home in Las Vegas or thinking of selling your Las Vegas home, since you're here, you're obviously searching the Internet for information. But that's just it, there's so much information out there some of it may have you scratching your head, or leading you in the wrong direction.
I get calls and emails all the time, or just from general conversation, and hear so much of the misinformation that gets spread around. From 'leading expert' websites often quoted in the media to comments made online, or those who heard something from friends. It reminds me of the State Farm commercial that "They heard it on the Internet,"and "They can't put anything on the Internet that isn't true." Of course her date was a French Model...she met him on the Internet!
For years now it's been implied that Las Vegas has so many foreclosed homes for sale, it has given many the impression that you would have a large selection to chose from. Unfortunately there's a few details they always seem to leave out. Many of the foreclosed properties are in bad condition, some not even allowing them to be financed. That said, homes have been selling all through these foreclosure years and inventory for sale gobbled up. Over 50% of all sales have been cash buyers. Both home buyers and Investors from around the nation and world have flocked to Las Vegas to pick up these properties, some with the added investment of rehabbing them. They've obviously felt the homes were undervalued and a real bargain.

Today the available Las Vegas home inventory is very limited and condition will still vary. So in spite of what you may hear or read on the Internet, Las Vegas is a sellers' market. I know you will still see thousands of homes listed on multiple websites. That is true, there have been roughly 13,000 - 14,000 homes listed for sale on the Las Vegas MLS. Again what they often often don't tell you is that roughly 3,000 - 4,000 homes aren't already under contract to be sold. That's across all price ranges, amenities, and conditions. So yes, a desirable home in good condition will have multiple offers and why Las Vegas home prices have gone up 31% over last year.
For sellers, you may now be able to sell. For buyers, low interest rates, even with rising prices make most homes still very affordable, often less than the cost to build. Even new Las Vegas homes are selling and still at a bargain as builders have been using many foreclosed 'infill lots'. These are lots that had already been prepared to build within a community. As those get fewer and fewer, those prices will climb until they reach the levels needed to develop raw land.
You may also see Market Reports posted, or 'Estimated Values' on these often quoted sites like Zillow, Trulia, REALTOR, or Homes, and many others. I often hear them believed to be as gospel, in spite of them having disclaimers somewhere on the sites. These are not always immediately visible, usually found if you click on something like a question mark, and that these are only an estimate or a starting point. Often in other places they will suggest that you contact a real estate agent for a better idea of actual value.
A home seller can even update their information, but how accurate is it as a starting point? How accurate is it for a potential home buyer to use as a starting point?

Well you have to remember some of those old real estate sayings... "Real Estate is Local," "Location, Location, Location," "Curb Appeal," and 'Upgraded or Remodeled." Finding comparable home values isn't always as easy as running a computer program based on data, that may even include incorrect information to begin with. You also can't compare a home value in an upscale guard gated community with golf course and clubhouse to sales prices from a tract home community or manufactured homes, simply because they may be sold nearby. That's even if you have 'data scientists'. It usually takes someone that can sort out an individual home from the rest, someone who works within a specific housing market like Las Vegas every day... like..a real estate agent!
Let me give you an example of how far off the expert sites can be just from one another, and I'll let you decide. I'm using a home that I'm familiar with, but isn't listed for sale. It will give some insight to potential home sellers that have been checking their own home 'estimated value' online, and still give potential home buyers an idea of the wide pricing swings these estimates can have. While this is just one example, I find it to be common more often than one might expect. Of course sellers want the high side and buyers prefer to see the low, that's human nature!

For some added background you won't get on these sites, this particular home I'll use is it is an upgraded 4732 square foot single story custom with theater and game rooms, multiple room surround sound and prewired for both cable and satellite, internet, and multiple wall mount flatscreens, with paved RV / Boat parking on nearly a 1/2 acre lot. The garage is an oversized 4 car that's just under 1400 square feet, heated and air conditioned and also with surround sound, hard wired Internet, flatscreen mounts, and pre-piped for compressed air outlets. Built in 2007, and before any building code requirements, it has a fire sprinkler system throughout. Since this home isn't for sale, for privacy I've removed it's and any nearby addresses in the following screenshots of search results.
WOW, isn't that a spread in estimated value! A Zillow Zestimate at $464,570, then a higher Trulia estimate at over $125,000 more at $590,000. Three external site results found on REALTOR.com list a range of estimates from SmartZip, Data- Quick, and Appraisal.com with a low estimate of $327,400 to a high estimate of $689,084, and a full range lowest to highest of $294,660 to $792,446! Holy Cow! That price spread alone is for over $360,000 to nearly 1/2 million! That's a BIG ballpark to play in! Then you have Homes.com coming in at an estimated value of $295,200, near the bottom of the lowest low range of 3 in the previous example. How on earth can a home seller determine which if any is correct? How can a home buyer determine which of the above, if any, is a reasonable value, or 'starting Point'?

Is this just a fluke? Well let's take a look at another single story custom home that sold just weeks ago, only 2 streets away. We can see the Trulia Estimate and the Zillow Zestimate...and the actual sales price...or value!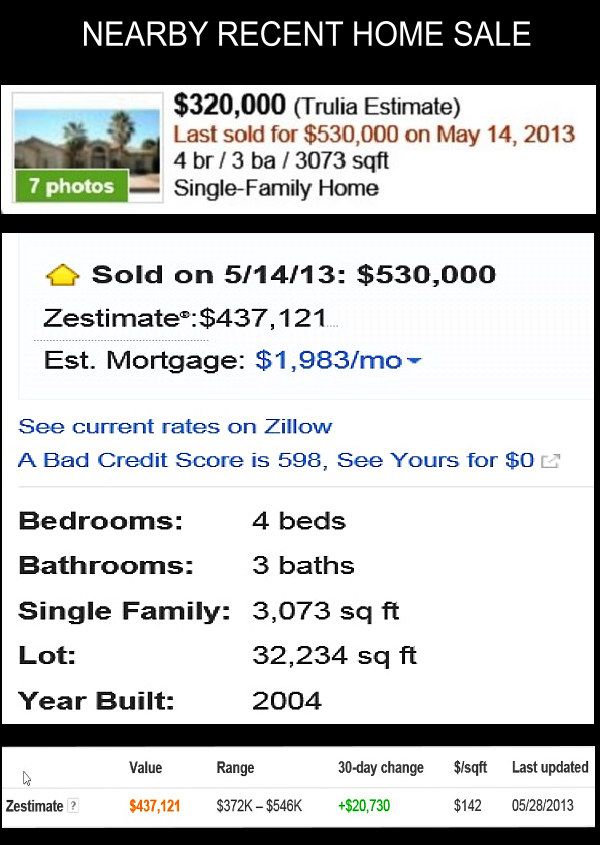 Well this time, just 2 streets away, highs and lows reversed between two sites that still had estimated values listed for a sold home. Trulia's Estimate of $320,000 this time was lower than Zillow's Zestimate of $437,121. Well in all fairness, Zillow raised their Zestimate by $20,730 on 5/28, after this home sale closed, so it must have been valued at $416,401. Trulia's estimate was low by $210,000 and Zillow by $113,599 from the actual sales price.
Maybe now you're wondering how could this be? These are sites often quoted as expert. Well it all goes back to those old real estate sayings, and that the data, programs, or science they use just doesn't always work, particularly in the fast moving Las Vegas housing market. Let me show you some examples using Zillow's nearby 'similar' sales, that must factor into their estimates.

The first section above lists 3 homes on the same landing page as my original home example, where Zillow Zestimates at $464,570. There the first 'similar' home sold nearly a year ago, the next almost 8 months ago, and the third is the just mentioned nearby sale. All 3 are over 1300 square feet or more smaller, and of course no details to compare upgrades, features, or home condition. Typically a comparable home is also within 10% of size, or at least 15% and preferably sold within the last 3 months, 6 at the most.

Just below this first listing is where you can click through to more nearby 'similar' sales shown in the lower image. The entire list dates back a year, so I shortened it to only the past 6 months. The nearby home example I used is highlighted in green, and here you can see it was built in 2004, only 3 years older than the home in question, and sold for $172 a square foot, a far cry from the $98 for the larger custom home.
You'll also notice on this list that square footage, price per square foot, lot size, and year built are all over the map. So are these truly similar? Again, location, condition, upgrades, amenities, and all real estate is local. A newer home with a lower price could be anything from a short sale accepted by a buyer last year and it took the bank months and months to approve it, to a home that has been damaged or stripped.
There are 2 homes that really pop out on this list, one highlighted in red, the other blue. Homes that sold for $7 and $28 a square foot! Now that's a real bargain! Or is it too good to be true, bad data? Yep, you guessed it. Both those homes weren't 'sold', but had technical changes done to their deeds, and this data from the county's website was picked up here as a sale. The supposed sales price listed is actually what each had paid for the vacant lot, $7 a square foot in 1989 and $28 a square foot in 2001. So no, you won't likely find a 4500 square foot home built in 2005 for $127,500. Even today with much lower prices than when the market peaked you'd have a tough time finding a 1 3/4 acre vacant lot for that price. So yes bad data can figure into online home value estimates.

So how do leading expert websites get their designation? Well, someone heard it on the Internet, so it must be true! Actually they marketed themselves well and attracted a lot of hits, and developed their own accuracy reports. Zillow lists their accuracy for the Las Vegas market as 'fair', but with media reports often quoting them as a leading source, that often makes people assume they are right on the money.
You also have to question how there can be so many sites with home listings or estimated values today, when they don't actually make money from selling homes or charge consumers for their information. Just like every other large dot-com that wants to survive, they have to figure out a way to monetize, and usually that means selling advertising. With real estate sites they try to sell to agents, so those agent pictures and designations of Pro or Preferred you see on a page only means they've paid to be there, not that it's a necessarily a qualification or they've vetted the agent for their quality of service. To each their own, but for me personally I don't chose to market myself this way. I feel I would be giving the impression that I am endorsing information, good or bad, that I have no control over.

Now with all this talk of Las Vegas home values let me mention one other thing that both buyers and sellers need to be aware. Appraisals are still all over the map, on the numbers or low. It's nearly impossible to predict as many appraisers have become overly conservative since the downturn. Some only use purely the nearby sales with no allowance for a more desirable home. It doesn't make much sense, because if a home can have no more value than what others have sold for in the past, how could there ever be any appreciation? Prices would never go up, even for inflation. Fortunately for home sellers, the Las Vegas real estate market does have all cash buyers or some financed buyers that have enough cash to make up the difference in the case of a low appraisal.

I also used my first home example for another reason. If you look again at the Zillow recent nearby sales, only 1 home comes within 10% of the size, and it wasn't a sale, only that price of the lot in 2001. The only other home within 15% of size is a 2 story that sold in December as a distressed sale, not a custom and on a much smaller lot. Even stretching to 20% of size, it only adds one more home for comparison. Because there haven't been any resales of a home this size it may be difficult to get an adequate appraisal.
Aside from size, the same can be true if there were an number of foreclosures or short sales, and not any comparable resales in an area. Home sellers may be looking at the numbers of these distressed sales, or these online estimates, and not realize that they may be able to sell for more. You may have to wait for a cash buyer or one that can make up the difference in a low appraisal, but it can be done with the continued demand for move- in ready homes. It takes some good marketing of a good quality home, but I know it can happen. I recently sold a resale home that appraised just under $50,000 of the sales price, with the buyer making up the difference in cash.
For today's home buyers in Las Vegas, you do have to be flexible and possibly patient. You may want to visit various neighborhoods to expand your personal search results, and decide what are must haves and what are 'would like to haves'. With the limited supply of homes, even under $300,000 there is a lot of competition out there, but it can be done with the help of a persistent agent. Also make sure you inform your agent of any changes in your home requirements so they can update your personal search.

Don't be assured that online home value estimates, market reports, median price reports, or 'comments' by others will give you a true idea of value, especially for a specific home. Also be aware that with short sale listings, the listing price that may be accepted by the homeowner doesn't necessarily mean the lender will accept it. If the listing price is low to attract an offer, lenders will typically counter offer at the higher market value price. With this type of sale
understand that it can take a few to many months to get a response from the lenders, so either allow for this possibility or decide if it will fit into your time frame.

Most important, have your loan approvals or proof of funds available before even shopping for a home, as you not only need to know what will fit your budget, but will probably need to move quickly to get an offer accepted. You should also shop for your buyer's agent and can get suggestions and an idea of how well they'll work with you before actually going out to look at homes. Develop a good working relationship and remember that's a two way street. Expect honest answers, advice, and suggestions to point you in the right direction. Don't expect an agent to give you a tour of the 600 square miles of the Las Vegas Valley, show you homes above your price range or expect to view homes when you aren't even approved to buy. It becomes a waste of your time, and theirs, and at the agent's expense. Expect reasonable service and good communication, and just be fair with them for your best results.

Because of the multiple offers or appraisal issues, a number of buyers are also looking into purchasing new homes, but always remember:
In Nevada, NEVER first visit a home sales office without your own agent either with you or signing you in, or register or signup to request new home builder information online. Doing either may cause you to give up your right to have your own agent representation for your new home purchase. As with a resale home, the seller or builder normally pays for your buyer's agent's services making it at no cost to you. Giving up this right can potentially be a costly mistake.
I hope this helps both Las Vegas Home Buyers or Home Sellers realize that all this online data, values, Market Reports, and even 'median home value' are
generalized figures, as you can see by these estimates and price ranges. They don't necessarily apply to more specific neighborhoods or a specific home.
I shop online and it's great for general merchandise, where products are the same and you can simply search for your best price. Homes are different, they're so often individual, not only with what I've mentioned here, but down to personal tastes. Finding the right buyer to match a seller's specific home is what really what gives the home it's true value. So let an experienced REALTOR® help guide you along the way.

Thanks for reading, and if I can assist you in purchasing your own Las Vegas area Home for your family, vacation, or investment, or assist you to market and sell a home, please don't hesitate to get in touch. I can be reached at Roberta@RobertaLaRocca.com or call 702-354-8988. I look forward to hearing from you!

Click the Black Bar to Subscribe to my rss feed




Search Las Vegas Homes, Short Sales and Foreclosures for Free
No Signup Required!