Part 3 of a Series, Las Vegas Buyer's Agent vs. Self Service Internet Home Buying - Part 1 Click Here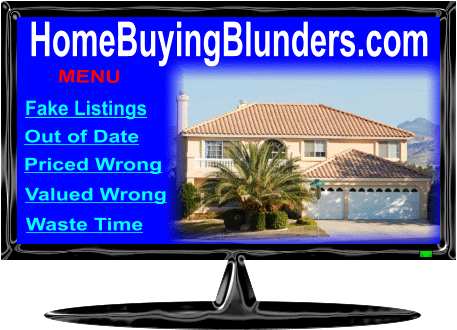 The internet is a wonderful tool, but unfortunately it's far from perfect. There are hoaxes, spam, scams, and misinformation that you have to endure and must sort out good from bad. Real Estate information isn't exempt, no matter how well known a website may be, and let's face it, these days it appears everyone and their uncle has some sort of online real estate search.

The big question is how accurate is this information. If you live in a market that is slow moving, it may not be as much of an issue. If you've read the first parts of this series you already know Las Vegas is fast paced, especially at the lower end of the pricing scale.

I constantly get contacts from buyers with homes they've found online at any number of the 'top' real estate sites, only to tell them the home is sold, under contract, isn't listed, or at a totally different price. This adds confusion and often distrust toward the agent or their ability. After all they see a listing for it. Unfortunately they can't purchase the home if it isn't available for sale.

These sites draw their information from local MLS databases, or in the case of 'foreclosure listings', raw data from the local recorder's office. For the MLS data, it's often not updated fast enough as these megasites have the entire country to acquire. They also normally won't include 'listing' details such as the property already being under contract and that it is still considered 'listed' until the sale actually closes.

The foreclosure sites' pricing can often be skewed by taking any title action for any amount and labeling it as a 'foreclosure', even the settlement amounts for asset management companies or liens. In some cases the foreclosure sales 'price' they list is from the Trustee sale, and because the homeowner owed more than the market value, the listing price may end up being lower when the home is actually listed for sale.
If you want to avoid the middleman confusion, simply use a local REALTOR® search. It's tied directly into the original database that these megasites periodically update from. I have several places online to find them and you can decide which one is easiest for you to use. They are at my sites RobertaLaRocca.com, Search4LasVegasHomes.com, and a slightly different formatted search at my Greater Las Vegas Assn. of REALTORS® hosted website, as well as my direct search link page.

Each of these free online searches includes Las Vegas Foreclosures, resales, short sales...anything listed for sale on the multilist service, including some new construction if you check that box. Not only that, but these listing are marked ACTIVE if they are probably still accepting offers. I say probably because I still call the listing agent to verify, as homes are often selling so quickly. They may not have updated it's status at GLVAR. The homes marked Pending or Contingent are already under contract and no longer accepting offers. The exception to those under contract, and why they continue to be listed, is if by some chance they should fall out of esrow. I think you'll find these home searches will be more productive and waste less of your time by not chasing after homes that are 'listed' online, but not actually available or accepting offers.

Of course this is still self-service real estate. It may even give some the impression that this is all a Buyer's Agent does, a quickie search that you can do yourself. There's actually much more to home buying than just these simple home searches with very limited information. They are alright for 'window shopping', but if you're ready to look seriously, you'll need much more information and guidance.

If you're a smart shopper, you'll start out knowing how much you can afford to spend. After all, it makes no sense to look at homes you can't afford. Offers won't be accepted without proof of funds or loan qualification.

If you're financing your purchase, you should have pre-qualified for a mortgage and have an idea of not only the amount you qualify, but what monthly payment you'll find affordable. If you haven't looked into financing, a REALTOR® can explain your options and put you in touch with financial professionals, and of course you can shop your best rates for yourself.

If you've run those numbers, you're all set to shop online, right? Well what about other costs that may not be shown in online listings? Property taxes? Homeowners Assn or Master Plan fees, LIDS or SIDS. Do you know what these fees are, and if every home has them or how much they can vary? These are potential added expenses that you may have to allow for in your budget, whether you're a homeowner or investor. A home can be gorgeous, but if it doesn't fit you budget, there's no sense in pursuing it any further.
When I'm contacted by a client, I can put them on a search that delivers only those homes that meet their particular needs, eliminating the need to search on their own. These results are sent directly to their email with new listings forwarded as they are entered. They will include property taxes and any other related fees or assessments. Above and beyond that, I can add some very specific search criteria, much more than you can do online, to narrow your search even further. Why run all over town looking at homes that aren't really what you're looking for?

During this time both buyers and investors may want additional community information or nearby amenities. For buyers, what they want where they live, for investors, what marketing advantage they may offer over the competition. Either may want local market statistics, and investors local rental data, so that their investment isn't lost in a sea of rental properties or rents in the area not matching their estimates, effecting their anticipated cashflow.

Let's face it, when you do find homes you want to look at, you'll need to contact a real estate agent. As I mentioned in Part 2 of this series, calling the listing agent may not be your best choice. Not only will you most likely be dealing with a different agent for each property, you don't have an agent representing you, as they become a neutral 3rd. party if you chose to make an offer.

Writing an offer is where you'll want even more information. Is the home listed at or above market price, or priced low to attract multiple offers. Here is where you'll want to make a decision on what is a fair price. Too low, and chances are it won't be accepted, and in this competitive market you most likely won't have the opportunity to negotiate. Too high, and not only will you overpay, but if financing the home may not appraise high enough for you to get the loan.
Then there are any contingencies and terms to consider, and if or how they may effect your chances of acceptance. With a bank owned foreclosure, a 'clean' offer, or asking only minimal and standard contingencies or terms, may increase your chances of success. A resale may possibly offer more options, particularly if the seller is eager. The signing of these documents can be made much easier with the recent official acceptance of Electronic Signatures by the FHA, an additional service I can provide for my clients.

With foreclosures, even if your offer is 'accepted', you will typically get a counter offer on the bank's specific contracts. Counters may also happen with resales and short sales. This is the time you need your Buyer's Agent to review before you sign. They may notice anything that is out of the ordinary that you may not want to accept or will counter, or possibly advise you to seek legal council before proceeding if something appears to be to your disadvantage. You never want to agree to terms without an understanding of how they will affect you.

If the contract is agreed upon, escrow is opened by your agent with a title company, and your due diligence period begins. For a resale or a foreclosure this is 5 days by Nevada law. You can ask for more in your offer, but with foreclosures I have yet to see a bank agree to go beyond it. During this time you'll need to arrange a home inspection and review the findings. Your Buyer's Agent can assist you with this process. Should anything found by the inspector raise questions, typically marked as 'further inspection needed', you'll have to determine if this is a deal breaker or if you'd want to get estimates or opinions from other qualified professionals. This must be completed within the agreed period, or you will forfeit your earnest money deposit.

As the sale proceeds beyond this point, typically the only issue to be settled is the appraisal and loan approval. Unfortunately there are also the possibilities of delays of closing, either from a lender taking longer than expected, or the seller having a problem providing clear title. Any delays may require additional negotiation and addendums written to the original contract.
After the closing and the official funding, your Buyer's Agent will present you with the keys to your new home. Of course, their work for you may still not be done. You may need more guidance on the "where to find", or the "how do I's" that may turn up as you begin settling in. This can range from anything such as government and community services to vendors and contractors, and beyond.

I hope that my series on Las Vegas Home Buying has been informative and gives you a better understanding of why having your own Buyer's Agent representation is so important, and how having one can help to streamline the process. Self-service may work for purchasing a standardized product at your big box retailer or online, but real estate is much more involved, as each transaction and home is unique. I believe you'll also realize that knowledgeable REALTORS® offer much more than providing a few listings and unlocking a few doors.

The most productive online real estate search you can do is NOT to hunt for a home, but to search for the agent who will best represent you. Blogs like mine here at Active Rain are a great place to start, giving you an understanding of the agent's knowledge and level of service they may provide.

From there, you can test the water a little further. Do they return calls or emails? Are they providing you with useful information? Will they make themselves reasonably available to you, or do you have to fit their office hours schedule of Monday thru Friday from 9 to 5...or less? Quality service, availability, and solid communication are all key to you best representation.

Also keep in mind that you want to develop a solid business relationship with this person, and that honest and open communication works both ways. If you expect a commitment from your Buyer's Agent, you should offer them the same. Remember, until you actually close on your home, you'll be operating on the agent's time and at their expense. A quality REALTOR® will be in demand, so if you've found one you're comfortable with, play fair if you hope to take advantage of their service and expertise.
If you are interested in relocating to Las Vegasor would like more information on Las Vegas real estate, please email me, at Roberta@RobertaLaRocca.com, or call 702-354-8988. I look forward to hearing from you!

Click the Black Bar to Subscribe to my rss feed


Search Las Vegas Homes and Foreclosures for Free - No Signup Required!