A hypothetical part of a post I made last year has unfortunately come true, the former Las Vegas home of Liberace has been caught up in foreclosure. The details of what has been taking shape, including pending litigation, can be found in an AOL News Story by local freelance journalist Steve Friess. He also has a post in his Vegas Happens Here blog with more on the story and some pictures of the elaborate interior. The home is not currently listed for sale, and with pending litigation it's difficult to give any timeframe of if or when it will be listed.
As you can see from the pictures, the Liberace Mansion as it's been called, sits on a corner lot relatively close to the street. The nearly 10,000 square foot home, with the 5000 square foot banquet hall addition that was added after his death, takes up most of the available half acre lot. The inside of the home is decorated with Liberace's flamboyant style of art and antiques, with reports that the home had over $5.5 million invested into it through the 70's and 80's when he owned it.

The home is actually two homes joined together, connected by what he dubbed 'The Eternal Hallway' that is lined with floor to ceiling mirrors, Italian marble floors, and accented with 2000 year old Greek columns. That is just a taste of the treasures hidden inside, but what has caused the home to be teetering in real estate limbo for decades.
The home was left to the Liberace Foundation and Museum, and they were the first to face the tough decision regarding the property. Here was a wonderful and very personal way to show Lee's panache didn't end on the stage, he actually lived it. Unfortunately, Liberace's personal style and choice is what created a dilemma for the Foundation that caused them to decide to sell.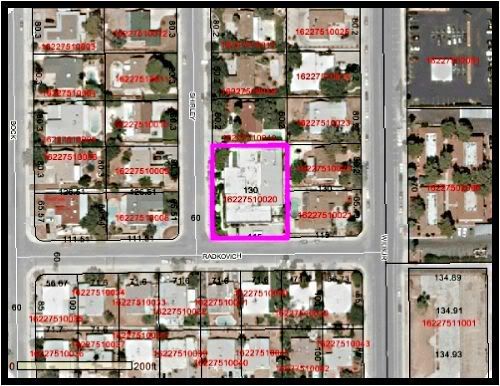 As to what is at issue, you'll see another clue in this aerial location map. The home sits in within a residential area, but as you can see from the upper right, a commercial parking lot is nearby. Only 5 homes separate it from Tropicana Ave. to the north. Just across that street is UNLV and it's Thomas and Mack Center, a sports and entertainment arena. The Paradise Rd. entrance to McCarran airport is about a half mile away. The property is zoned R-1 single family residential, but future use up to the street on the south is for commercial Professional Office. That future use only applies if the property can be designed to meet Clark County codes. So that's where the dilemma comes in, residential or commercial use. That's where it gets complicated.

Looking at the Liberace Mansion as a residence, it's not where you'd expect to find a celebrity home from the period, particularly for one of the highest paid entertainers. When you think of Las Vegas celebrity homes of his time, communities like Scotch 80's, Paradise Palms at the Stardust Country Club, that's now known as Las Vegas National Golf Course, might come to mind. The areas of Palomino and Pinto Lane have had their share of notable residents past and present, Ted Binion and Michael Jackson to name a few.

Rural Estates could be found in Royal Crest Rancheros or areas in the vicinity of Tomiyasu Lane, where names like Wayne Newton, Roberta Goulet, David Cassidy, Gary Primm, Mike Tyson, and many others were former or are current residents. These are areas that are considered desirable by many, and even today, some million dollar homes are being built in these rural estates. Just last year the Nexgen "First to the Future' demonstration home was built in this area.

Just the way he lived his life, Liberace's choice of home and location was much different than other celebrities. As it was put in a Las Vegas Review Journal article for the Las Vegas Centennial,
"He purchased an unremarkable tract home, then the adjacent house, and linked them together into one mansion."
His choice wasn't to satisfy anyone else, but himself, and he had plentiful resources to do just that. In that same article I found another quote that left me wondering if it held a clue to why he made his selection where he did.
"Except for music, there wasn't much beauty in my childhood," he later recalled. "We lived in one of those featureless bungalows in a featureless neighborhood. I hated shabbiness. I'd walk 27 blocks and pay 15 cents to sit in a new, clean movie house when I could have walked five blocks and paid 5 cents to sit in an old, dirty one."
That made me wonder if Lee was in some way trying to correct the shortcomings of his own childhood, by creating his remarkable art and beauty in what was considered to be an unremarkable tract home development. After all, he created his foundation to assist aspiring artists to achieve their goals, to reach for the stars, so I'd find it imaginable that he might want to offer inspiration to his neighbors that a celebrity lived in their midst.

Strangely enough since his demise, the effects of his home on neighbors has been quite different. It's been a decades long battle of complaints as his mansion shifted from celebrity residence to commercial property, having been everything from movie locations to banquet hall. The primary issue at hand? Parking and traffic. The other is meeting codes for it's public use, which appears to be part of the reason the Liberace Foundation put the home up for sale. You'll find this near the end of this LA Times Article from 1988.
May Not Allow Use
"But it's not zoned for a museum, and one of the things we learned is that it would cost probably a million dollars to get it up to code (installing such things as ramps for the handicapped) to be an open-to-the public building," he adds. "The foundation owns the rights to the Liberace name and even his signature. . . . I don't think we would probably allow them (the new owners of the home) to use it."
Clark County has recognised the historical significance of the home, and in my own opinion, has been very flexible. The added 5000 square foot banquet hall seats 300 and parking requirements would be a need for at least 180 spaces. Off site parking at UNLV, shuttle and valets, may have been enough to temporarily appease commissioners, but residents continued to complain about parking and traffic for both guests and staff. Deliveries have been being made in the street to the chagrin of the Paradise Town Board, that have brought that and other code issues before the county.

After years of compromise, promises, and use permit extensions, the parking plan for a minimum 10 onsite spaces still hadn't been submitted, leaving the county under the impression it had no other choice than to deny another extension. They did so in Feb. 2009, without prejudice, allowing the owner to resubmit an application that would satisfy the requirements. It's my understanding that hasn't been done, but it would appear that the county would be willing to work with a commercial owner that was willing to work with them.

Yes, any owner hoping to use Liberace's Mansion for commercial use will need to satisfy county codes, and that may even be impossible to do without redesign or purchasing additional adjoining property. A residential buyer would want to be aware that their home could potentially have a commercial business next door, and determine if this would effect their individual lifestyle.

This is an important lesson for any real estate purchase. There's so much more involved than simply looking at a listing, or making assumptions about a purchase. It's why you need to have a knowledgeable REALTOR® on your side as you go through your due diligence. All buyers have to determine what issues, if any, can affect what you may be able to do with a property. This also comes down to a personal decision that can only be made by asking questions and having information made available to you. What worked for Liberace for nearly 2 decades, and the next owners for almost the same, didn't work for the Foundation and may or may not be a fit for anyone else today.
Hopefully the current stalemated situation with the home can somehow be overcome in the near future. A movie on Liberace's life has been proposed by director Steven Soderbergh that would star Michael Douglas as Lee and Matt Damon as Scott Thorsen. It would be a shame to have legal issues prevent this part of Liberace's life to be withheld from the public.

There are also plans said to be underway to move the Liberace Museum from it's current location at Tropicana and Spencer to the Las Vegas Strip. The move is thought to help attendance, as over the years the resort corridor has become it's own destination filled with a variety of attractions and exhibits. This would bring the museum to the visitors, instead of visitors to the museum.

If the movie is made, it could also create interest in a whole new generation of 'fans', many who may have never known Liberace. It may also help many realise that they have been experiencing his influence on both style and showmanship of performers that they are more familiar. Liberace was the original 'King of Bling', his ornate costume influence seen from Elvis to Elton and beyond, and image repeated by so many entertainers creating a branded persona to accompany their talent.

While the foreclosure of Liberace's Las Vegas home is unfortunate, it does offer a reason to revisit both him and the interesting history of Las Vegas. It's yet another interesting example of the entertainers that have or now live among us here, and that part of what makes Las Vegas such a great place to call home.

I also have to thank my resident Las Vegas history buff, and an amazing researcher, for providing so many of the details, so that I can provide them to you.
If you are interested in relocating to Las Vegasor would like more information on Las Vegas real estate, please email me, at Roberta@RobertaLaRocca.com, or call 702-354-8988. I look forward to hearing from you!

Click the Black Bar to Subscribe to my rss feed


Search Las Vegas Homes and Foreclosures for Free - No Signup Required!