No, it's not limited to Las Vegas. You usually hear only the 'bad news' about kids. The positives, good news, or good kids...those examples, ideas, that can actually benefit everyone, just don't get equal attention. So let me tell you about just one of the good news kids, and I'm sure there are millions more across the country just like him, that you'll seldom hear about.

This kid Dave was a fantastic athlete with amazing eye-hand coordination. His father was also a pilot and noticed his skills transferred to home computer flight simulators, so at age 12 his dad took him out to fly for real. Soon after he became a USAF Auxiliary Cadet, performing Search & Rescue, Disaster Relief, and various Community Services. He had taken to the program's self study and had completed several courses.

At age 15 he entered into a a week long program with the USAF Pararescue, an elite military rescue unit whose motto is "That Others May Live." They perform rescues of the better known Navy Seals and Army Green Berets, to name a few. That was an unbelievably extreme course, learning to push past physical limits of fatigue, hunger, and pain, as they ARE the rescue. When he was finally the legal age of 17, he earned his fixed wing private pilot license. Unfortunately his thoughts of joining the PJ's were dashed by a knee injury that would preclude him from qualifying for their rigorous training requirements that have the highest washout rate of the USAF.

His other dream was to pursue a career in aviation by becoming a helicopter pilot. He moved to Las Vegas with his dad and hoped to do his training here. He was disappointed to find out he had missed out on going to school in Las Vegas, since there is an Aviation Academy at Rancho High School, one of the several Magnet School programs offered in Clark County. He also missed out on the Nevada Millennium Scholarship Program that pays a healthy part of tuition at Nevada colleges or universities for students that maintain a 3.25 GPA or higher. On the plus side, he was easily able to find a part time job and began working for the City of Henderson's Parks and Recreation, and at wages better than those jobs available to teens in his former home town. He quickly adapted, and adopted, Las Vegas as his new home town.
Being so young he had a tough time convincing the flight school he wasn't one of the crazy teens you hear about in the news. Even his fixed wing license was held against him since it can be difficult to transition to rotary wing aircraft. He persisted and did get into the school, later running the flightline for the startup of their Grand Canyon tour operations. Those job hours became more demanding at the same time his training needed more of his attention, so he slowed to a more flexible schedule. Flying and school during the day and working evenings as a golf concierge rotating through several of the Las Vegas Strip resorts.

On obtaining his commercial and instructor ratings the flight school offered him a job as an instructor in Texas. After building his flight hours there he took on another challenge...flying for a company in Alaska.

Yes, as the History Channel show is titled, it's Tougher in Alaska. Mountains with wild winds, white ice fields that blend into the milky white of the overcast, and weather that can change in the blink of an eye. This company was part of an FAA program that used GPS technology combined with moving maps to avoid the terrain when the sky suddenly whites out. The 'Capstone Program' uses technology that allows a pilot to fly by a display screen, a type of 'miss the mountains flying' video game when you can see nothing outside the cockpit. The training also included performing various maneuvers without hydraulics or engine power to simulate a failure. He completed the initial training in Ketchikan and was assigned to the tours in Juneau.

Alaska is an interesting place to say the least. The flocks of birds there were a little different than those of a city. Instead of pigeons everywhere, they are replaced by eagles.
(Click on any picture for a larger view)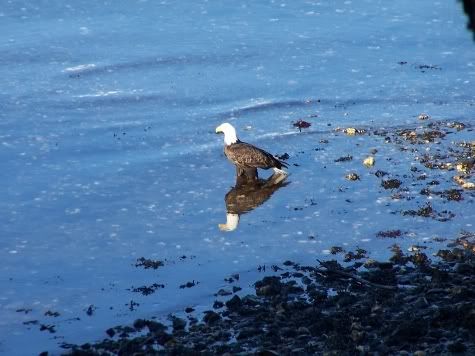 One day as Dave was on the phone with one of my sons, he abruptly ended the conversation with a "Ahh....I'll have to call you back"...*click*. Later we found out why. Seems he was hiking from their group 'pilot house' and had to become quiet quickly. He didn't want to disturb one of the resident salmon fishermen.
When the weather was good, the pilots had long days of flying. There were those few times where they could sneak away to hike up to the base of the glacier and check out the amazing blue 'ice caves'. Of course flying had some interesting runs, like taking supplies, or even the dogs, out to the dog sled camps.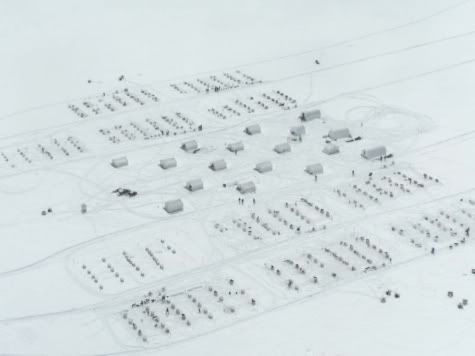 The flying was always challenging as the glacier landing zones were 'on the move' with the ice reacting to the warmer temperatures of summer. The ice fields at the ice climbing and dog sled camps made it difficult to judge your landing height, and the only reference was an orange cone on a pole. The intense white was all around, and maneuvering close to the rocky terrain that might poke through, often the only reference when in flight.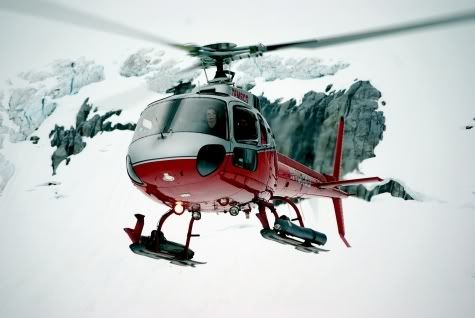 When the weather was down in the mountains there was time for some external loads. In the lower 48 you may see this done for some construction. In Alaska, it's one crucial way to transport supplies, even used for logging and many others since roads are few, and loads may have to be dropped by line if there's no place to land. Here Dave is leaning out in the breeze from where the door used to be, watching the linesman and the load to pick up.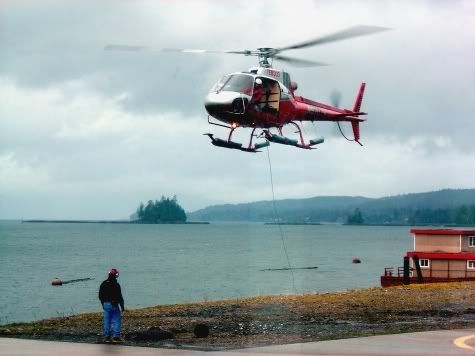 For those that want to see what the glacier tours are like, one of Dave's passengers put his videos of a 'Pilot's Choice tour' on Youtube. Some incredible scenery if you haven't experienced it. There are two short clips made into Part 1 and Part 2. Click on those to be able to do the full screen on Youtube, or can just watch the smaller ones here.
Sure he's a bold and couragous pilot, but still the very humble guy that he is. He's not one to grab attention for his accompishments, no matter how 'cool' they may be. His dad had to find out from a pilot message board that his son had become a 'fashion model'. When asked about his appearance in Men's Fitness for the rugged men of Alaska, he said it was "No big deal, they picked me and another pilot and put us in some designer clothes." The company had agreed to the shoot, and the only reason he went along with it. He then figured he should give his dad a heads up about his other magazine appearance. One of his takeoffs was shot for a helicopter trade magazine, and his cabin shot a lead off for the article.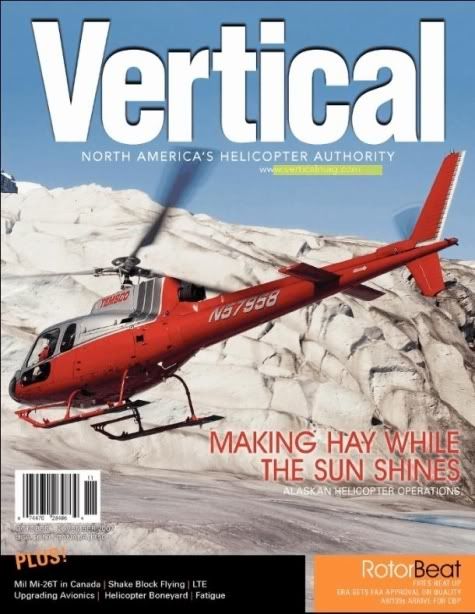 Dave had flown impressively enough in Alaska that his company offered him another job at the end of the season. This was in west Texas flying for their EMS medivac, a three time winner of best service in Texas. The territory covers an area from Dallas to the Mexican border, and over some very rural parts of the state. The dust of the desert areas causes brown outs when landing, and the nights are ink black, with no city lights to help guide the way, let alone land.

The landing zones are often on roadways, fields, and even convenience store parking lots, and the only makings are the code lights of the emergency vehicles on the ground. Calls come in only giving the location, not the medical issue, as the pilot bases his go or no go decision only on weather. From the call, there are 10 minutes, to jump from the bunk, check weather, flight plan the route, get the crew boarded, fire up the turbine and be off the pad. The 12 hour, 6 days on, 3 day off shifts have 14 hour duty days to allow time for trips before the next flight crew shift arrives. Another challenge for this kid, now barely in his 20's, and still not old enough to qualify for that over 25 discount rate on car insurance. Still, it's what he'd done since he was much younger, doing Search & Rescue, following that motto...."That Others May Live.", and those of the Cadets..."Service Before Self."

He's also still performing community service. He goes out for public demonstrations and inspires young children to follow his lead. He sometimes even hangs out with that 'other' dog named Sparky. So look out for him in those Home Depot parking lots.
Of course Dave has a tough side and he's instilled that in his flight crew of medic and nurse. If you think your price at the pump has gone up, just imagine Jet - A fuel. A precious commodity when doing long hauls across the wide open spaces of west Texas. Here they're standing guard.
OK, just kidding. They were participating in a local Air Force Base Safety Day. They were there to talk about their scene procedures and how they handle their calls and safety issues, items that could come in handy for these airmen and the personnel from the other branches that attended. They just borrowed their toys for the above picture. Dave has been to a number of military ranges to shoot under a rangemaster. As a Cadet, he'd also torn down, cleaned, and reassembled weapons at the armory, so he's well versed...just disappointed that he didn't get any ammo for the M- 203.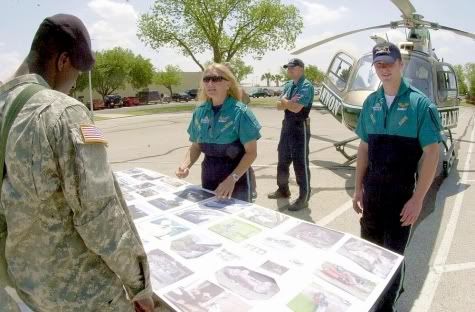 Dave is just one of the many good kids that turn out to be fine young adults...that you seldom hear about in the news, let alone in the headlines. The majority that serve their community, their nation, or even the public by simply providing quality services for their neighbors. For Dave, he like so many others did this while spending their wild late teen years here in 'Sin City', another misnomer that causes the false assumption that Las Vegas isn't a good place to raise kids. He's living proof of how wrong that image really is.

Dave has become a role model for others, yet his example will only be seen by those that get the chance to meet him. He's far from the type to have any attention for himself, that's just not his style. His is only a personal satisfaction for a job well done or completing a challenge, not for a pat on the back or kudos. I'm glad my own sons have had the opportunity, and in my own small way here in my blog, hope that you're glad I introduced him to you. I'm proud of what he has accomplished by his own determination and the sacrifices he makes, not because I'm lucky enough to now have him as a stepson.
If you are interested in relocating to Las Vegas or would like more information on Las Vegas real estate, rentals or property management, please email me, Roberta LaRocca, at roberta@search4lasvegashomes.com, or call 702-354-8988. I look forward to hearing from you!

Click the Black Bar to Subscribe to my rss feed



Search Las Vegas Homes and Foreclosures for Free - No Signup Required!