Sure, first thing you think of when Las Vegas is mentioned are Casinos, Resorts, Fine Dining, or Shows. Some others may think about the fantastic recreation, wonderful communitiesmild climate, or employment and business opportunities. What about the home of a world wide Pinball King, and then his hands-on playable "Museum"? I know I sure didn't.
Let me back up a minute. Before moving to Las Vegas, I had a Frank Thomas "Big Hurt" machine in my gameroom. It was playable, but needed a few parts, so the hard decision had to be made."Was it worth it to move this across the country, possibly causing more problems, and probably impossible to find parts for it?" Las Vegas and Pinball? No, that doesn't seem to fit. BOY, was I wrong, and wish I had someone to give me a little insider information about all there is hidden here in Las Vegas.
A few months after moving here, that consultant on everything guy that happens to be my webmaster, gets a call from one of his clients across the country. He says he's coming out to Vegas for a 'Pinball Fun Night' at a private home and gives him the address. Turned out it was only about a mile away.
OMG!!! What a shock! This turned out to be the home of The Pinball Millionaire, Tim Arnold, that had owned the chain of Pinball Pete's arcades in Michigan with his brother. Tim sold out to his brother in 1990 as Pinball continued to loose it's place to video and home games. Over the years he had been warehousing his old machines, instead of taking the minimal trade ins offered, and collecting others he came across. In 1991, Tim and his wife purchased a home in Las Vegas, and with the help of friends (and an unlimited mileage truck rental deal) began several cross country caravans to the dry desert climate that could help preserve his collection, that now totals over 1200 machines that date back to the 1930's.
The 10,000 sf. warehouse behind his home is where he stored this stash, and periodically opened his home for these 'Fun Nights', raising money for local charities such as the Salvation Army, and his dream, of having his amazing playable collection open to the public. Your donation was your choice, for both amount and charity, and you were free to play anything you'd like. Over 400 machines were available, and even more were stacked to the ceilings, and most everywhere else around his home.
Tim IS the ultimate silver ball fanatic! He lives, breathes, eats, and sleeps pinball, and explained so much I never knew. Things like....at one time through the 50's, pinball was the highest grossing entertainment industry in the US, even outdoing Hollywood. The industry had been the largest employer of graphic artists and developed most of the commercial art we see today, which once you think about it, is easily seen on every table and backglass. This art is also capturing moments in time of Americana, from what was popular in the day. Styles, fashion, cars, activities, TV and movies, it's all there representing each period through the 20th century. Even music was captured as the technology evolved.
Then Tim explained Pinball's other tie to Vegas. Many of these games were the gambling machines often found in every bar, bowling alley, drug store, pizza shop, or arcade across the country. In the past they were even banned in various cities, and while some may have only paid out in candy, others paid in cash, with the payout discretely dispensed 'under the table', in case you ever wondered about possible origins of that phrase. Manufacturers of games such as Williams, Bally's, and Midway have since moved into manufacturing some of the slot machines you see at the Casinos.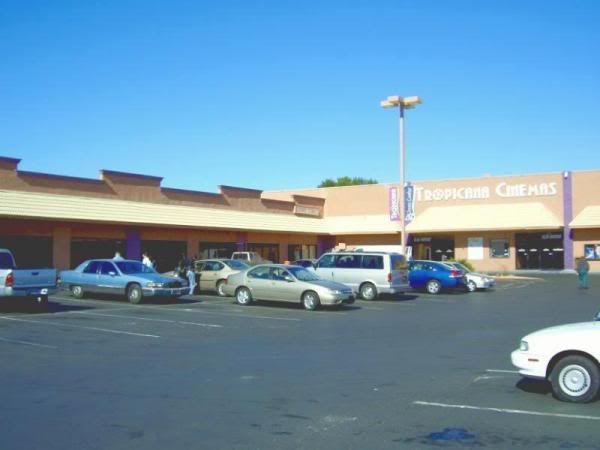 In Feb. 2006, Tim finally made his dream come true, and opened the Pinball Hall of Fame in a small strip mall at 3330 Tropicana, at Pecos. (The mall is currently being remodeled) The 200 usable machines on display cover from the 30's to the early arcade videos, and even includes a one of a kind playable multilevel prototype pin that was never put into production. Las Vegas is the global home of Pinball, with visitors from all over the world trekking to this silver ball Mecca. Tim has said that the foreign visitors are just enthralled with our culture, and pins captured so much of it.
He rented this space, and with the help of the Las Vegas Pinball Collectors Club, scavenged materials and remodeled the interior. The carpet was leftover from the Las Vegas Convention Center. Even change machines thrown out by the Golden Nugget Casino were gathered and restored to make it happen. His plan was to keep his costs at a minimum, so that he could not only share these unique pieces of history with the public, but to continue to contribute to the community. Yes, it's a volunteer staff of the ponytailed Tim, club members, and now his friend from Michigan, that goes by "The Hippy", that put in the long 12 hour, 7 day a week shifts. After the rent and power bills are paid, everything above that goes straight to local charities.
If you're coming to Las Vegas, and want to take a trip down Memory Lane, stop into the Pinball Hall of Fame. Even bring the kids and introduce them to it, and show them some of your own childhood. Most of all, just have some fun with the challenge of these truly "man against the machine" games, where no two plays are ever the same.
If you are interested in relocating to Las Vegas or would like information on Las Vegas real estate, please email me roberta@search4lasvegashomes.com or call me at 702-354-8988