Las Vegas is a city that reinvests and reinvents itself, and that has led to it's amazing growth. It's almost constantly in a state of evolution. The Mirage is no exception, and after recently completing their $110 million room and suite redesign, they're getting closer to completion of the $25 million makeover of their famous landmark volcano, with the unveiling scheduled for December.
The construction project has been massive. Draining the lagoon took place in February and workers have been hard at it ever since. The time involved until it reopens should give you an idea of just how extensive this renovation will be.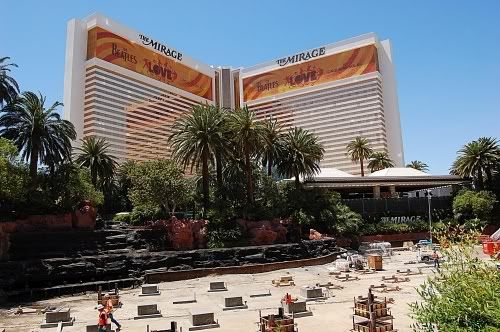 CLICK FOR LARGER IMAGE
The transformation of this 1989 icon sounds to be amazing, and will use the latest technological innovations. The nightly once every 45 minute show will return as an hourly spectacular to allow for the longer 7 minute runtime. New acoustics have been designed by Meyer Sound, the designers of the fabulous system used inside the Mirage for Cirque du Soleil's LOVE, that brings the remastered Beatles tracks to life. 60 sound cabinets will be strategically placed around the Mirage Lagoon to allow viewers to become one with the production.
The new flame shooter design will 'dance to the music', and that is a percussive score written and performed by Grammy Award winning and Greatful Dead drummer Mickey Hart, and the famed Indian virtuoso Zakir Hussain. Those gathering around the lagoon will be immersed into the presentation further that just the audio and visual. The intense sounds and choreographed flames and explosions are said to 'rattle your bones', just as if you were standing before a live eruption.

So who are the evil geniuses that can create such a realistic spectacle? A relaxing waterfall by day, that morphs into a nightly raging volcano with fireballs shooting 12' into the air, and flaming lava flowing before your eyes? None other than the famed technological team at Wet Design. These creative developers of water features worldwide have taken on the challenge, and are known for their breathtaking results. You may have heard of one of their other little projects here in Las Vegas, the Fountains of Bellagio at the sister MGM Mirage property.
The Mirage is also holding a contest for a free trip for 2, to Las Vegas in December for the Grand Opening Party to celebrate the Volcano's rebirth. They're asking for submissions of favorite memories of the original, including photos and video. Those entries and the voting will be done on Facebook, with the link found here at the Mirage Volcano page. Even if not entering, you may want to check out the video there that gives an even better visual of what will be created.

The amazing elements of Las Vegas....Fire, Water, and as I recently blogged, even Ice. To live here you have these ever evolving wonders just moments away. The jobs that these and many other Las Vegas Projects create only add to it's ability to sustain continued growth and a bright future.
If you are interested in relocating to Las Vegas or would like information on Las Vegas real estate, please email me roberta@search4lasvegashomes.com or call me at 702-354-8988. I look forward to hearing from you!